Two new ways to improve workplace productivity
31-08-2010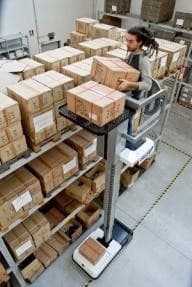 Safety and comfort … the Caddy Electric Work Platform
Warequip, a premium supplier of materials handling equipment, has added two exciting new products to its extensive range. 
The Caddy and Spin-Go from Bravi Italy are designed to improve workplace productivity and safety.
Compared to traditional methods, such as ladders, these Elevated Work Platforms make the worker capable of double production, in safety and maximum comfort.  
Operators do not waste energy climbing up ladders or manually shifting heavy, awkward packages.
The Caddy and Spin-Go make picking, packing and stocking easy.
The power driven Caddy Electric Work Platform unit is ergonomically designed and has a maximum working height of 5.3m. 
The Caddy can quickly lift and lower the operator and goods to a desired height – offering maximum efficiency with minimum dimensions.
It can make a complete rotation on its axis, due to its innovative drive system and easy to use controls.  
The Bravi Spin-Go, the smaller of the two models, is a lightweight, push around stock picking unit that has a working height of 4.2m.
The Spin-Go comes standard with traction assist controls to make moving goods easy, even for lightly built operators.   
Measuring only 1155mm long, 730mm wide and 1500mm high, the Spin-Go is a unique device ideal for stock picking in retail, offices, schools or any narrow aisle space.  
The Spin-Go is a radical design offering a smaller, simpler and economical option, you can even use it on a mezzanine floor.
The Spin-Go's operator capacity is 130kg with a further 90kg on the height adjustable material shelf and 110kg on the chassis storage area below.  
It has a low 360mm step-in coupled with simple push button up/down controls.
Warequip
Ph: 1800 337 771