Two new faces at Industry Update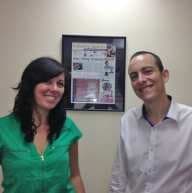 Industry Update Magazine, Australia's market leading manufacturing publication, continues to expand.
This month we have appointed a new Advertising Sales Manager (Sean Fletcher) and a new Production Manager (Angela Hankinson). 
Sean, widely known as "Fletch," is a highly respected magazine sales executive.
With experience in advertising sales for the past nine years, Sean will focus on new business development.
Previously, Sean worked extensively across consumer magazines in the Men's Lifestyle and Motoring categories.
Sean, 30, loves to travel – and is fortunate to have a fiancé that works at Singapore Airlines. He is also a keen golfer, motor enthusiast and music lover.
Sean looks forward to making new contacts in the manufacturing sector and is keen to meet key industry players.
Angela Hankinson is responsible for magazine and web design and production. 
She has had more than 15 years' experience in graphic design, working in the printing and signage industries as a designer and a sign writer.
Angela has worked as a design manager at Snap, Optus and Clear Skin Care Clinics.
More recently she worked at Yellow Pages as a designer, subject matter expert and support and trainer, winning multiple awards for her design and technical skills.
When she is not in front of a computer, Angela has a passion for fast cars, cycling, camping, spontaneous adventures, road trips and cooking up a storm for family and friends.
Angela can be contacted at: production@industryupdate.com.au
For advertising enquiries contact Sean at: sean@industryupdate.com.au