TWO HANDS ARE BETTER THAN ONE FOR A FLEXIBLE ROBOT
15-12-2017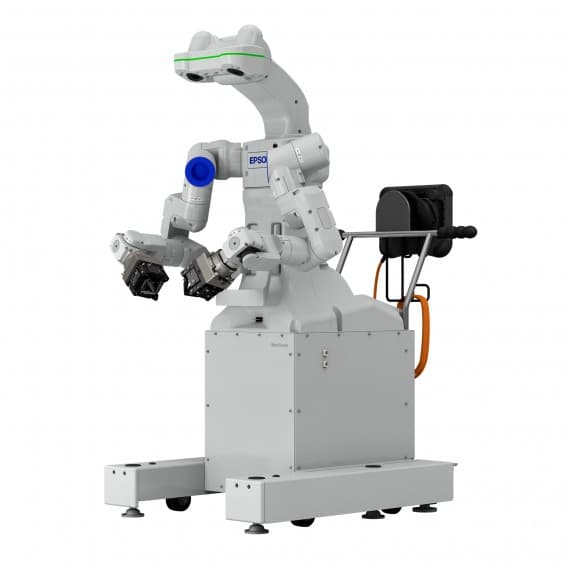 Epson has unveiled a novel design of autonomous dual arm robot that it reckons is perfectly suited to the demands of small-batch and just-in-time production. Dubbed the WorkSense W-01, the new machine has been given a large number of "human-like" qualities, and looks set to expand the scope of flexible manufacturing.
The WorkSense W-01 is mobile: it can be wheeled from place to place to perform different assembly, transport and other tasks. It includes no fewer than six cameras – four in the "head" unit and one in each of the arms – that help it to accurately detect an object's position and orientation in three-dimensional space. And even if the location of objects and obstacles changes, the robot is able to independently "see" and determine their position.
Each of the arms includes highly sensitive, precision force sensors, which enable it to perform delicate assembly, transport, and other tasks that require human-like force control to avoid damaging objects.
Multipurpose hands that can grasp, grip, and clamp objects of various shapes and sizes are included as standard end-of-arm tooling. They can manipulate tools and jigs that were designed for humans.
The robot's two seven-axis arms move like human arms. The dual arms move independently from one another to allow the robot to perform tasks that a single-arm robot cannot, such as tightening a screw in a component with one arm while holding the component in place with the other.
Yoshifumi Yoshida, COO of Epson's Robotics Solutions Operations Division, says: "We are refining our core technologies that combine sensors and smart features, as well as our efficient, compact, and precision technologies, with the aim of realising a future in which robots are widely used to serve and support people. We see the WorkSense W-01, which harnesses the power of Epson's deep portfolio of technology, as bringing us one step closer to bringing about such a future."
You can see how alarmingly "human-like" the WorkSense W-01 really is in its official launch video.
Epson Australia
1300 361 054
www.epson.com.au