TURNTABLES SAFELY REPOSITION HEAVY INDUSTRIAL MACHINERY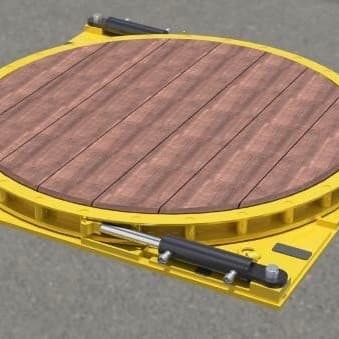 Enerpac, a global market leader in heavy lifting technology and high-pressure hydraulics, is introducing a new line of industrial turntables that facilitate safe repositioning of heavy or oversized loads to Australasia and Papua New Guinea.
Enerpac's ETT200 and ETT400 turntables greatly simplify handling, adjustment and precise orientation of loads up to 200 and 400t respectively, using Enerpac's powerful and robust hydraulic cylinder technology.
Designed to complement Enerpac's SL series hydraulic gantries and/or LH series low-height skidding systems, the turntables serve a vital role in critical handling of heavy or oversized loads.
It can safely handle devices and components widely used in heavy industry, such as industrial-scale transformers, generators, motors and engines, permitting smooth, precise positioning before, during or after skidding or lifting operations.
Enerpac Asia-Pacific Marketing Manager Tony Cooper says the turntables facilitate the safe and efficient positioning of nearly any load, even in the most restricted spaces.
"This portable positioning system easily pays for itself in productivity gains and improved efficiency during device installation, removal or maintenance, while protecting workers from potential injury caused by attempted manual rotation during skidding operations or suspension," he says.
With a low-profile height of just 150mm, the turntables provide exceptional load stability. The ETT200 is driven by a single, double-acting 25t capacity hydraulic cylinder, and the ETT400 by two cylinders, to achieve its 400t capacity.
Both models offer smooth, tightly controlled rotational power and can be operated with standard Enerpac hydraulic pumps. The 1.8m diameter platform provides controlled zero-turn capabilities in an efficient footprint. The turntables feature a durable hardwood surface, 700bar cylinders and 360-degree, bi-directional rotating capabilities made possible by a highly accessible cylinder ratcheting system. The system is easily transportable by four integral lifting hooks, sets up quickly and weighs just 1700kg.
The turntables facilitate efficient maintenance, repair and operations, providing a direct transfer destination for heavy skidded or lifted loads, letting operators preform service directly on the platform itself, or accurately positioning the load and setting the stage for removal from the site location.
As with all Enerpac lifting, professional bolting, pumping and industrial tools, the turntables are supported in the field by Enerpac's long-established national sales, service and technical backup networks to ensure maximum operational safety and uptime.
Enerpac
02 8717 7200
www.enerpac.com