Turck's TX700 provides a versatile human machine interface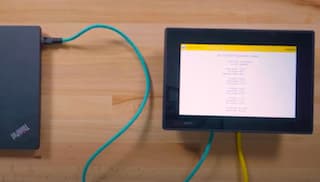 In many automated processes, humans operate and monitor equipment via HMIs or human machine interfaces. An ATM is an example of an HMI. The Turck TX700 series is another example.
Turck's TX700 series stands out due to its versatility. With drivers for easy integration to all major PLCs, it can be used as an HMI only or, where needed, it can be used as an HMI with integrated PLC functionality. The multitouch screen lets users monitor and control their operation locally with gesture control or remotely via computers or tablets using web visualisation.
Special models are available with a high brightness display, with IP67 housings or for the food and beverage industry.
In addition, the TX700 series supports a variety of fieldbus communication protocols, is easily programmed with free CODESYS V3 software and is available in display sizes of 5, 7, 10, 15 and 21 inches.
For more information, visit: www.turck.com.au or call 1300 132 566.