TURCK expands optical sensing range
31-08-2010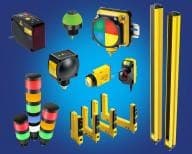 New range … TURCK'S latest photoelectric sensors
TURCK Australia has expanded its extensive line of photoelectric sensors and optical sensing products.
The new range compliments the company's existing families of robust inductive, capacitive and process sensor solutions.
As an industry-recognized leader of automation products and solutions, TURCK Australia is now offering a broad selection of photoelectric sensors, safety light curtains and tower lights. 
The company provides a complete range of solutions for virtually any application, with timely delivery and at a competitive, factory-direct price.
"TURCK Australia is committed to providing the most inclusive product selection for the automation industry that features highly competitive technology and is priced to fit the market," said Cameron Dwyer, Managing Director of TURCK Australia. 
"By adding photoelectric sensors, we are demonstrating our expertise and dedication to the automation marketplace by adapting to its unique and demanding sensing needs."
TURCK Australia has enhanced its product offering in the following categories:
Laser Sensors
Measuring Sensors
Fiber Optic Sensors
Namur Photoelectric Sensors
Ultrasonic Sensors
Radar Sensors
Registration Scanners
Cylindrical Photoelectric Sensors
Slot Sensors
Reflectors and Accessories
Safety Light Curtain, Types 2 and 4
Safety Interfacing Relays
Tower Lights
TURCK Australia
Ph: 1300 132 566