TURBULENT HEADING FOR ONESKY PROJECT
15-05-2018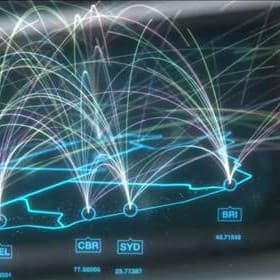 OneSKY, the $1.2 billion project to integrate Australia's military and civilian air traffic control systems, has come under scrutiny for increasing delays due to reluctance around proposed downgrades to the project. 
Freedom of Information (FOI) documents, obtained by Centre Alliance Senator Rex Patrick, have shown the AIR 5431 Phase 3 Civil Military Air Traffic Management System (CMATS) project, which was running over two years behind schedule up until a contract signing on 26th February this year, was at risk of slipping further behind. 
The FOI documents show Defence delaying, but eventually agreeing to proposed downgrading, which will see changes to services offered in Darwin and Townsville: pilots will be talked down by controllers in Brisbane, rather than have Defence air traffic controllers guide approaches to the airfields with new OneSKY technology.
"In the interests of continuing to work constructively and pragmatically together Airservices has accepted all we think we reasonably can, and have rejected the changes that are unacceptable," Airservices Australia's Paul Logan said via email.
Defence's Group Captain Richard Haines also raised concerns of costs and capabilities of the project in November.
"I suspect that the Defence expectation and Airservices intent is not aligned on these aspects of the Alternate Tower offer including the legal instrument that will be used to implement the agreement (ie OSA versus DOSA)," Group Captain Haines said in November via email to Logan.
Despite Defence accepting downgrades to the service, the cost of the project still rose from $521 million to $764 million, with one Senator questioning whether Defence was "snookered" into the agreement due to time constraints.
"When most people go shopping they try to get 'more for less'. Unbelievably, it seems the government has tried to get 'less for more'," Senator Patrick said.
"Defence seems, on the evidence, to have paid $243 million more for up to $250 million less equipment. This equates to a half-billion dollar shift in price from the original programme costs. That's a quarter of a billion dollar blowout at contract signature.
"This project has been mired by controversy from the start, with the Senate examining the project, the Auditor-General delivering a scathing report on the tender evaluation process and the project making its way on to (and then back off) Defence's own projects of concern list, all before kick-off on the substantive work.
"It's just not how you would set up a project. It seems to me that Airservices and Defence have been a little too close to the trees on this one, that they haven't seen the forest. They were snookered into proceeding because the due diligence stage was so drawn out that they ran out of time."
AIR 5431 Phase 3 CMATS was approved in 2014 and is meant to deliver the defence aspects of a harmonised civil/military air traffic management system under the OneSKY banner — collectively being led and managed by Airservices Australia.
Once implemented, Airservices Australia and Defence will share technology and information. It will manage forecasted growth of air traffic movement in Australia, by as much as 60 per cent by 2030, minimising delays for the travelling public.
Upon removal from the projects of concern list, Minister for Defence Marise Payne said OneSKY's leading-edge technology meant Australia would have the most secure and resilient air traffic network in the world.
"This project will replace the ageing military air traffic management systems and is essential to ensuring our ADF can continue to operate safely in Australia's airspace," Minister Payne said.
"The integrated system will manage more than 11 per cent of global airspace and some of the world's busiest air routes."