Tsurumi pumps making a big splash
04-09-2013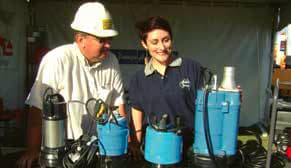 Australian Pump Industries is an Australian distributor for high quality Tsurumi pumps. Tsurumi Pump is the world's biggest manufacturer of electric submersible pumps with a manufacturing capability at their Kyoto plant of in excess of one million units per year.
The Tsurumi range features their new, heavy duty submersible dewatering and effluent handling pumps designed especially for the construction industry.
Tsurumi is unique among the world's submersible dewatering pump manufacturers in that they offer a threeyear warranty through Aussie Pumps.
Local contractors are impressed by the ease and reliability of the range of heavy duty dewatering pumps. The superior design and the highest materials specification makes them a winner on almost any construction site where electricity is readily available.
The company's latest venture is to launch 316 stainless steel pumps made from high carbon material.
Though heavier than many other pumps, they are built to last and can easily handle the toughest conditions including seawater and aggressive liquids found on mine sites and quarries.
Later this year Tsurumi will launch a comprehensive range of 1000v pumps designed for the mining industry. The 1000v pumps will be marketed for no additional charge over 415v units and will come with a three year warranty like all other Tsurumi units.
Australian Pump Industries
Ph: 02 9965 3500