Tsurumi Pump Mines Australia
26-10-2012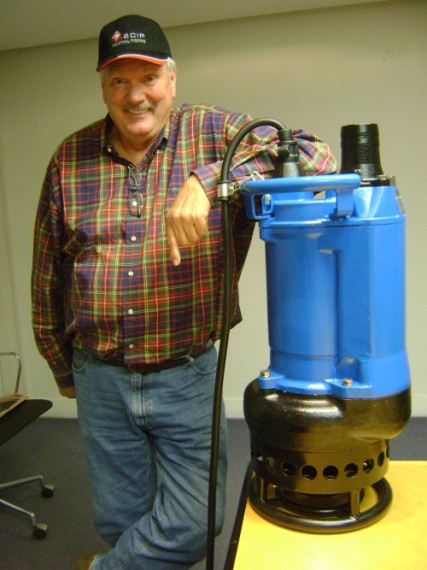 Tsurumi Pumps' Bill Davidson inspects a dewatering pump designed for the mining industry.


Tsurumi Pump's Bill Davidson recently visited Australia for the second time in two years to work with Australian Pump Industries. Davidson is a man with 30 years of submersible pump experience and was responsible for putting Tsurumi in a prominent position in North America's mining, construction and rental pump markets.
Davidson's experience was influential in Tsurumi's development of a range of products that were significantly better. They have developed pumps that are broader in scope and feature genuine engineering advantages that provide longevity and reliability to the user.
Tsurumi Pump, the world's biggest manufacturer of submersible pumps, is based in Osaka Japan. Their Kyoto robotised plant has the capacity to build one million pumps a year. It is regarded as being the most automated and efficient manufacturing centre of its kind in the world.
Australian Pump was appointed by Tsurumi as their exclusive distributor for Australia and Papua New Guinea around two and a half years ago. In that time there has been remarkable market growth.
"One of the first things we did was slash prices by 40% across the board to make these world leading products more competitively priced. Aussie Pumps were able to do this by committing to significantly larger volumes than the previous distributor. We turned the cost savings generated by bulk buying and reduced freight rate to lower prices," said Aussie's product manager Craig Bridgement. "Of course it helps to have an undoubted product as well," he said.
During his visit Davidson chaired a number of forums for business leaders in mining, quarrying and concrete industry. He also undertook training for Aussie Pumps' growing Tsurumi distribution network.
The Tsurumi product range includes three phase pumps developed specifically for the North American mining market where cost of ownership is key.
"The backbone of our product range is the LH series of three phase deep well dewatering pumps. They offer great performance but their true value is in their slimline design allowing the pumps to fit into tight spaces," said Davidson. "The centre-flange construction balances the pump and enables it to be lifted up and down without disconnecting the pipping," he said.
The product range includes big submersible pumps that offer up to 250m head capacity and flows of up to 300,000 lpm.
Tsurumi incorporates a number of features that enhance the life expectance of the pump and cut maintenance cost. These include a unique anti-wicking cable gland that makes it virtually impossible for water to enter the motor through the cable. A double silicon carbide mechanical seal arrangement where both seal surfaces are submerged in oil, well away from the pump liquid, is a standard Tsurumi feature.
"Those two simple features virtually knock out the two biggest single failure points on any submersible pump," said Davidson. "It's one of the reasons we don't sell as many parts as our competitors," he said.  
Tsurumi is also a major manufacturer of cutter, grinder and sewage pumps. They are also world leaders in submersible aeration equipment and have free documentation explaining how aerators can cut sewage processing costs dramatically. Installation is simple and operating expenses are significantly lower than other methods.
Australian Pump offer a full range of training courses in the use and application of Tsurumi submersible pumps. Courses can be delivered by local distributors or by attending the regular seminars held at Aussie Pump's two and a half acre headquarters in Sydney's Norwest business district. Tsurumi Pump sees Australia as key to expansion in the South Pacific markets.
State of the art 1,000 volt dewatering pumps for underground miners and explosion proof pumps are the next target for Tsurumi. Aimed at Australia's underground coal mining business, a broader range of these pumps will be arriving soon.
Further information including free products guides and course information is available from Australian Pump Tsurumi Pump division, also from www.aussiepumps.com.au, or by phone on (02) 8865 3500.