TSUBAKI'S INNOVATIVE SOLUTIONS FOR THE CRANE INDUSTRY
07-05-2015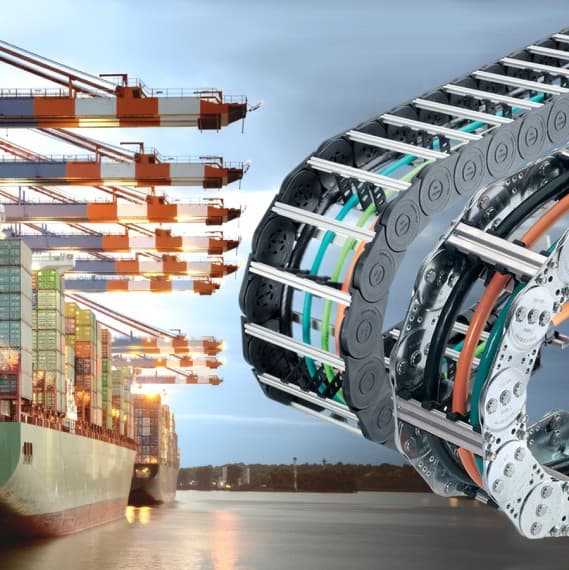 Tsubaki Kabelschlepp is a total solution provider. 
A global leader in high quality chain products, Tsubaki is renowned for reliability and experience, having installed thousands of applications worldwide.
As modern crane systems demand increasingly higher cycle rates and travel speeds, they need cable management solutions that can hold up to these new requirements. 
To meet these demands, today's port cranes and lifting devices require lightweight cable carriers that offer high speed, high acceleration and high durability. 
Tsubaki Kabelschlepp can help you adapt your systems to meet these new demands and even has solutions for extremely long travel applications that require high speeds and accelerations.
Tsubaki Kabelschlepp customised solutions for cranes includes cable carrier systems in:
·       Ship to shore container cranes
·       Rubber tyre gantry
·       Rail mounted gantry
·       Automated stacking cranes
·       Reach stackers
·       Spreaders
Benefits of cable and hose carriers for cranes are:
·       Cost effective compared to Festoon systems due to shorter cable lengths and no inefficient hanging loops.
·       Extended cable service life – the cables only bend in a defined radius and absorb no pulling power.
·       Very long travel lengths possible.
·       Weather proofed for off shore / on shore conditions
·       Low maintenance
·       Secure protection of cables and hoses, even in high wind conditions
·       All power, control, data, pneumatic, water or hydraulic cables in one system
To ensure the highest standards, Tsubaki Kabelschlepp has an outdoor testing facility with real conditions. 
Gliding and rolling systems with travel lengths up to 100m, in high speed applications, are being tested under harsh conditions.
Tsubaki Kabelschlepp
Ph: 02 9704 2500