TRY OUT THE WORLD'S SMALLEST BLUETOOTH 5.1 DEVICE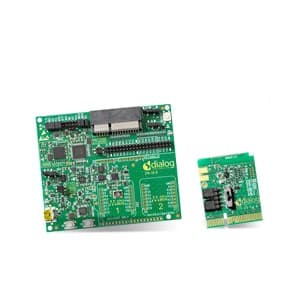 New development kits from Mouser Electronics enable application development based on the industry's smallest and most power-efficient Bluetooth 5.1 SoC. The low-power cost-effective DA14531 SoC enables new classes of Internet of Things devices, including the growing market for connected medical products.
The Dialog DA14531 SmartBond Tiny Development Kits are available in Pro and USB versions. The DA14531 Development Kit Pro includes a Bluetooth Low Energy motherboard, daughterboard with the DA14531 SoC, and a mini-USB cable.
The DA14531 Development Kit USB is a small, portable USB board with Bluetooth Low Energy technology, one mikroBUS connector, 2Mbit of SPI Flash, and an onboard DA14531 SoC.
The DA14531 SmartBond TINY SoC is based on an Arm-Cortex M0+ microcontroller with a complete set of analogue and digital peripherals, and incorporates a 2.4GHz transceiver in a minuscule footprint of just 2.0 x 1.7mm. Requiring just a few external components, the ultra-low-power SoC allows engineers to integrate the device into asset tracking, RFID tags, beacons, wearables, medical, and automotive applications.
Mouser Electronics
+852 3756 4700
au.mouser.com