TRUMPF bends all the rules
01-05-2014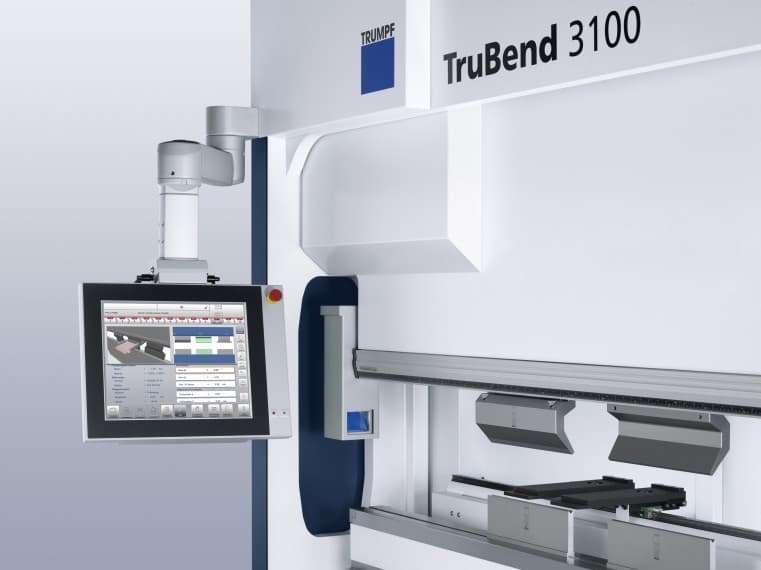 The new generation of TruBend Series 3000 TRUMPF combines high axis speeds with easy operation and an attractive price-performance ratio.
Easy to use, robust and reliable, the TruBend Series 3000 by TRUMPF features a multi-touch control and compact design.
The backgauge can view the entire bending length approach and make them usable without interference contour.
The automatic crowning ensures constant angle. High axis speed make the machines also the fastest in its class.
TRUMPF's premiere machine, the TruBend 3100, has a force of 1,000 kN and a bending length of 3m.
It is equipped with 2-axis back gauge, but can be allocated to a 4 – to be upgraded – or 5-axis stop system. This sheet can be positioned securely even with complex component geometries.
The switch to the TruBend Series 3000 is simple because even foreign tools can be used without an adapter. You can choose from different tool clamping systems as needed.
The Quick Clamp option reduces setup times, because with a lever a quick-lock in the upper tools is possible. The fastest machine is equipped with hydraulic clamping, because it is automatic. All terminal systems also centre the tools automatically and can be used vertically. Both reduce set-up times.
Various components ensure that the machinery of the new TruBend Series 3000 offer a safe and ergonomic workplace. These include the optoelectronic safety device BendGuard. It monitors the area below the upper tool by a light field. If an interfering contour like a hand interrupts the light field during operation, the machine stops. Thus, the system protects the machine operator. It can therefore safely use the full speed of the machine and productive edge.
The compact design of the machine brings other advantages: it requires only a small footprint, has an easily accessible interior of the machine and can be installed quickly, because it is fully assembled upon delivery.
The TruBend Series 3000 and complete TRUMPF Machinery range is available in Australia from Headland Machinery.
Headland Machinery Pty Ltd
Ph: 1300 592 061
www.headland.com.au