| Article appears in October 2021 Issue
A truly winning combination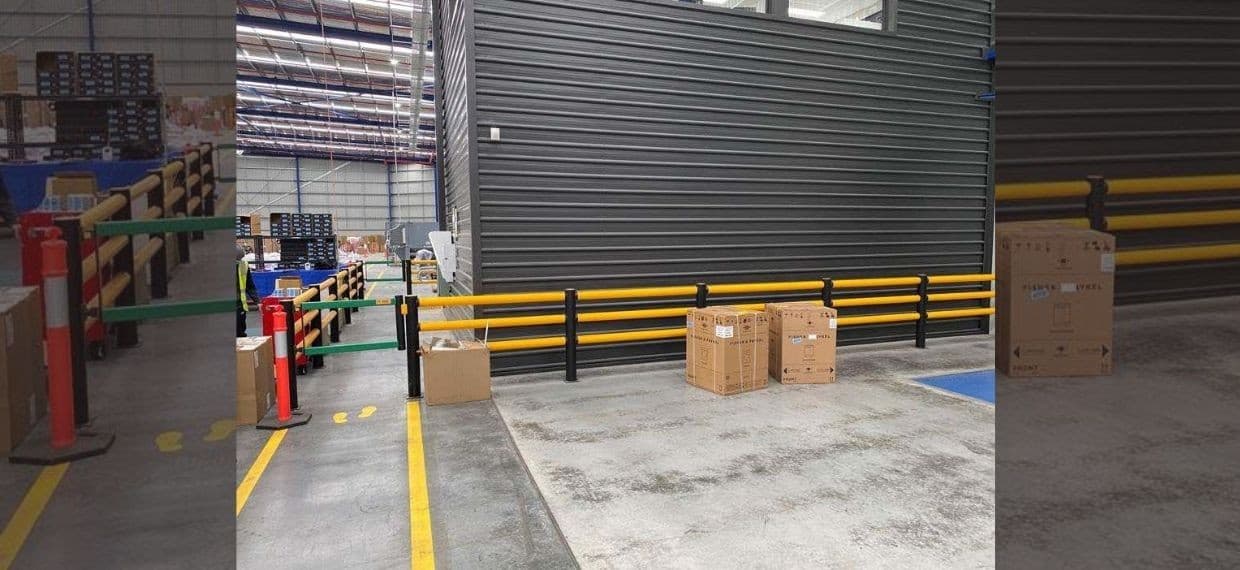 Independent Consultant Alan Lewis and Mark Collins from A-SAFE Australasia Pty Ltd, supplier of polymer safety barriers, talk about their joint project with the booming appliance company.
The growth of Winning Appliances has been astronomical in recent years, which meant they needed large facilities to allow for their rapid expansion. When it came to establishing their new 45,000 square metre warehouse in Altona, Victoria, the company relied on the expertise and experience of logistics consultant Alan Lewis, who in turn called upon Mark Collins, director of A-SAFE Australasia, to ensure all the client's barrier and safety needs were met and in accordance with PAS13 Code of Practice from Warehouse and Traffic Management. The A-SAFE range was the most impressive and appropriate the market could offer.
"I ran the Winning Group tender process for the site - a significant space. So, there are various streams I had to manage such as safety barriers for the whole facility. I went to various providers, of which A-SAFE was one of them. Upon discussing the requirements of Winning Appliances with Mark in detail, and looking at the benefits of A-SAFE barriers over traditional metal barriers, A-SAFE barriers were implemented into the project.
"The main idea of the A-SAFE barriers is to separate pedestrians from any moving machinery while being rated for impact – steel barriers aren't rated. The idea of an A-SAFE barrier is to absorb energy without damage to the barrier or the concrete floors. The forklift drives away – no damage to your concrete, no damage to your barriers. The barriers are tested and certified," expands Mark.
When it came to Winning's particular requirements, Alan felt A-SAFE was the best fit.
"Top of their priorities was safety. So, separation of machinery and pedestrian foot traffic was paramount. That was a tick, obviously. Then, if you imagine, a forklift is obviously metal, and with a metal barrier, you can cause damage not only to the barrier but to the machine itself. Whereas A-SAFE a barrier (made of polymer) takes the energy, takes the impact, and doesn't result in as much damage as other providers products might," Alan explains.
"During the competitive tender, obviously, I sold the client different options. I'd worked with Mark previously, for another major retailer in Australia, King Living. So, I took the client up to King Living to show them exactly what A-SAFE looked like, the feedback from that client as well was part of the decision-making process. It came down to a commercial decision as well. I'm sure Mark will tell you I did a good job on negotiating! It was a fair price for what I believed was a superior product."
Another drawcard for customers when it comes to A-SAFE is its move to implement an Australian barrier standard. A-SAFE, along with a university and some key customers have created a code of practice called the PAS 13:2017 Code of Practice for safety barriers used in traffic management within the workplace with test methods for safety barrier impact resilience. This marks the beginning of a standard and provides clients such as Winning a valuable point of reference.
Alan, a native Yorkshireman, arrived here in Australia back in 2006.
"I worked in 3PL (third party logistics) in the UK, generally with DHL, but partnering with Unilever and others. I was headhunted by Coles in 2006 and spent five years in Perth opening a 90,000 square metre site for them. It went very, very well, Coles moved me over to Melbourne and eventually to Sydney to do the general logistics for NSW.
"I left Coles in 2012 and joined the Winning Group. So spent five years with John Winning on the first supply chain strategy change, so my first partnering with Winning was as a permanent employee – the logistics officer for Winning.
"I basically moved all the sites into new sites, changed warehouse management systems, developed a management team for the business as well and drove that customer interface. I left Winnings after five years, joined Nick Scali, spent a couple of years there doing the same thing – new warehouses, new warehouse management systems – that's my... sort of... call," Alan reveals.
"Then two-and-a-half years ago I decided to go out on my own. I'm an independent consultant now. Generally, I aim towards big and bulky retailers – like the Winning Group, King Living, Bing Lee. I've worked for some pharmaceutical businesses, transport business. But what I really look to do is warehouse design, warehouse fit-out and warehouse 'go live'. So, I'll go into a retail business, design what their future should look like from an operational perspective, work out the commercial benefits, look at the growth of their business and what that will do for their customer service. So, trying to get that win, win, win all the way round, I guess."
With the Winning Appliances project now successfully completed, Alan and Mark are looking to collaborate again, and the presence of the pandemic has been a game-changer for both their companies.
"Everyone's realised now their volumes have grown but they can't always cope with that growth. So, there is a bit of a mad scramble at the moment where businesses are looking for bigger facilities," says Alan.
"They need a bigger inventory holding to satisfy demand. It's well publicised globally while people have been in lockdown, they've had to switch to the online method of purchasing and coming out of lockdown - it's sticking. What does that do for business? It means bigger operations. This means more people, and you have to keep them safe... so that's why I'll continue to partner with people like Mark."