A TRULY GLOBAL SUPPLY CHAIN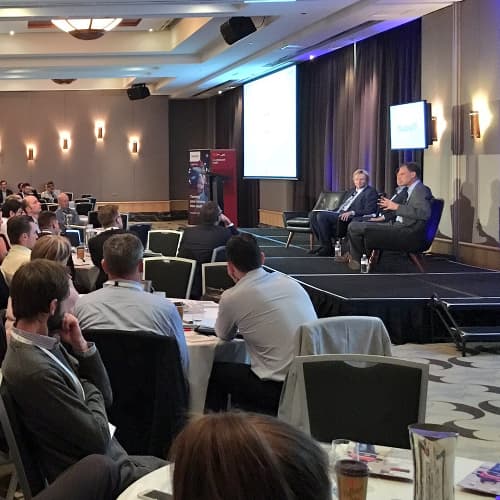 Supply Chain Forum 2016 took business strategies to the stars.
If you're a high level executive, you understand the importance of a highly durable supply chain that adapts to market forces, ensuring your business isn't left out of the loop.
Without a supply chain that responds to the world as it changes, everything that a business does will be hamstrung. A good supply chain combines consistent discipline with constant negotiation, both with the consumer you are servicing, and the people who make up the industry you are servicing from.
That's why the Supply Chain Forum (SCF) is a crucial tool in any exec's kit. As the world's largest business-to-business trading community, the SCF allows access to networking and learning opportunities like no other, every single year. 
The 2016 Forum was no exception, providing an opportunity to join high-level peers and listen to stories and advice from some of the greatest minds in the industry, working for companies that are renowned worldwide.
Take, for example, NASA. Who better to consult about a global supply chain than a company whose products and technology quite literally circle the globe? For Michael Galluzzi, NASA's Lead Business Strategist for Additive Manufacturing and Supply Chain Management, negotiating risk is crucial.
"You don't predict the future," he said, "but you can project it."
He works with the lesser known (but incredibly vital) side of NASA's operation, dealing with purchase orders and suppliers of parts and material. He manages a multi-billion dollar chain that needs to be pinpoint precise, and it is; when one of NASA's suppliers was hit by the 2011 tsunami in Japan, their system was alerted in seconds, allowing them to adapt instantaneously.
When dealing with a supply chain of NASA's magnitude, even single percentage points can represent millions of dollars in risk.
With up-to-date information and a comprehensive projection of the future, your business can be like NASA, and protect itself against the most unexpected of disruptions. 100% safety is impossible and mistakes or flaws are inevitable, but this is to be embraced.
"We don't learn if we don't fail," Michael said.
He wasn't the only voice advocating for a sensible but open approach to change and risk. Supply chains' renewed importance as an efficiency driver of the business was a key focus of this year's Forum, driving home the ever-changing nature of 21st century business. Complacency is a killer, and every sector is facing different challenges.
"We're entering a volatile, uncertain, complex and ambiguous world," said George Bearzot, Supply Chain Director of Lion Co. "The role of a supply chain is to be the eyes of the enterprise."
As emerging technology shakes up established conventions, your supply chain must adapt. As the needs and expectations of customers change, what was once sufficient may become outdated. A robust supply chain is one which evolves, without staking too much value on tradition.
A consistent and data-driven approach is key (to suggest otherwise would be irresponsible), but different data will require different approaches. George advocates diversity, both in hired talent and in supply chain strategies, to ensure maximum success.
Other panels discussed the responses of companies who are altering their supply chain strategy in response to shifting trends and customer demands. Speakers like Molly Harriss Olson, CEO of Fairtrade A&NZ  and Cameron Webb of Woolworths discussed crucial questions around customers, asking and answering what it means to make a supply chain customer-centric, and how organisations are integrating customer data across the demand, supply and design functions.
Ms Olson in particular is familiar with the frustrations of a disorganised and ill-informed supply chain. Working in the White House during the Clinton administration, the process of procuring and gathering data around climate change and renewables was lengthy and inefficient.
"I had to decide whether or not I was going to hang in there and do everything I could with the council – which seemed an absolute recipe for disaster," she has previously said.
"There were days when I wanted to crawl under the table because the arguments about a finite planet were just embarrassing." 
To be successful, any supply chain has to be increasingly focused on data. Companies like Fairtrade have renewed their focus on the needs and demands of the customer, ensuring that organised data can bring clarity to the entire chain of supply. The more comprehensive your understanding of demands, the better your end service will be, and the easier it will be to procure decisions of consensus.
The 2016 Supply Chain Forum, by all accounts, was a resounding success. The sheer knowledge and experience on hand made for an incredible learning experience, and the star-power of these high level execs left us more than a little star-struck.
We can't give away all of the Supply Chain secrets we learned this year, unfortunately, but we're already anticipating the 2017 Forum. To get the first news on lineup details and Forum topics, visit www.supplychainforum.com.au, and follow Supply Chain Australia on twitter @SCForum_au.
Hopefully, we'll see you there next year.