TRIBO-TAPE LINERS REDUCE FRICTION IN LINEAR MOTION
21-05-2018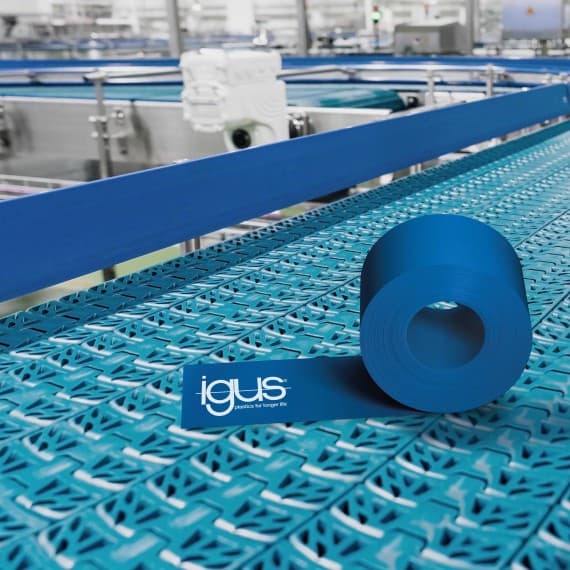 Available from Treotham Automation, igus tribo-tape films are ideal for any application where smooth, silent, simple and lubrication-free sliding motion is required. The tribo-tape reduces abrasion, enabling easy sliding and reduced wear. The films can also be used as edge protection and product protection for lining metal parts in packaging systems and conveyor systems.
The films are particularly useful in applications with high levels of dust. For example, in wood processing, where sawdust and wood chips are inevitable, the tribo-tape can be used to ensure easy movement of the rotating stop on a saw blade. And as the liners are completely lubrication-free, settling sawdust will not stick to the surface.
The tribo-tape films have recently been improved with a new adhesive that improves the adhesion of the film. What's more, the new adhesive is FDA-compliant, making it suitable for use in the food industry.
Among the different tapes available, the blue liner made of FDA-compliant iglidur A160 material is highly resistant to media and meets the stringent requirements for hygiene and safety in the food industry. (And the blue colour makes the material easily visually detectable.)
Other types include W160, which has been developed for hygiene-sensitive industries and has antibacterial properties. It also contains UV-stabilising additives, so that its material properties do not change even in light-induced oxidation.
For high-temperature applications, iglidur V400 is extremely heat-resistant and can be used at temperatures up to 200°C, with adhesion up to 160°C. Thanks to its extreme wear resistance, iglidur V400 is suitable for use at high loads and temperatures and is also resistant to a variety of media.
All iglidur tribo-tapes can be delivered with or without adhesive backing. In addition, Treotham offers the cutting of special geometries or special widths.
Treotham Automation
1300 65 75 64
www.treotham.com.au