Treotham's labelling technology gets new look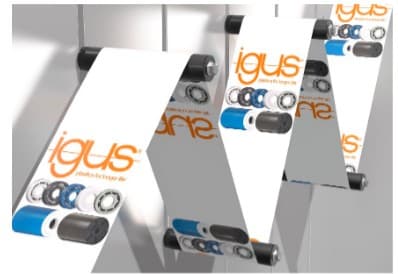 Saving up to nearly half its weight and 42% mass intertia, Treotham's black guide roller with ball bearings has proven to be big news for packaging and labelling technology.
 As fully assembled systems with a tube made of aluminium, carbon or PVC, the ball bearings prove their worth as guide rollers for deflecting films or labels, or for conveying goods.
 Marcus Semsroth is Head of the xiros polymer ball-bearing division at igus GmbH.
 Semsroth points out that by using wear-resistant high-performance polymers and thin-walled tubes, they provide a weight saving of up to 48% compared to metallic solutions.
"The idea for the black design arose from a customer enquiry. The technical specifications of our classic aluminium rollers were already very convincing, but black visible parts were desired for one labelling series," Semsroth said.
"This soon resulted in a product that met the customer's requirements in terms of technology, price and appearance."
Since the roller doesn't reflect light, it allows for easier collaboration with camera systems.
In the online tool, the user only has to specify the outer and inner diameter as well as the length of the roller, the load, the load case, and the ambient temperature.
If the user follows the second step, they can select their guide roller based on the deflection, weight and price data – all directly from Treotham.
Treotham Automation is a leading supplier of high-quality electrical components and products to a wide range of industrial markets.