TRASH PUMPS: THE ULTIMATE GUIDE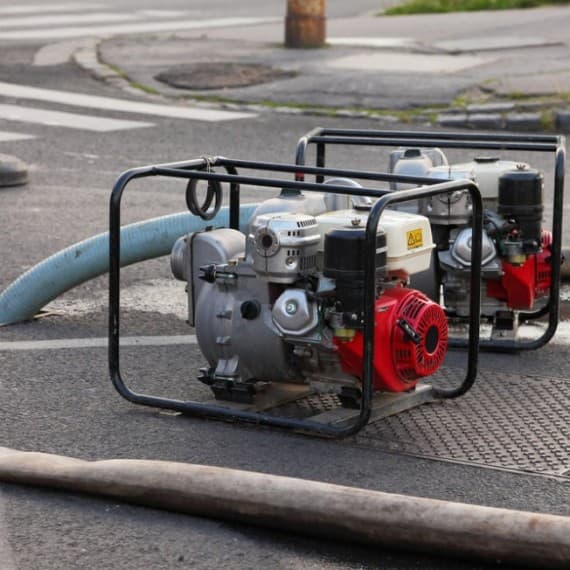 Picture this: you're working on a an outdoor site and everything gets flooded from an unexpected source. Maybe the pipe has burst or there's an overflow issue.
Sandbags have failed and the normal pump isn't operating to plan. The site is in havoc! Usually, it's a sign of debris build up from the water, which results in a clogging problem, or the pump has simply burnt out. Whichever it is, it can be a recipe for disaster. Not to mention, the time and hassle it takes to fix the issue too.
So, what's the solution? A trash pump is designed to be the magic fix for situations like this. Trash pumps working by pumping liquids that contain solids, both soft and hard, without the dreaded problems of clogging and overworking.
Water pumps are meant to pump clear water, but when you throw debris and other solids into the mix, choosing the right pump for the job is vital. Whether you're cleaning up the site after building work, floods or other natural disasters, trash pumps can handle the maximum load of solids and water.
But, what trash pump is best for your project? Here's everything you need to know about trash pumps.
Regular pumps vs trash pumps
Water removal is no easy task. Fortunately, the right water removal pump can make the job a lot easier. This is where trash pumps come in handy. Whereas some pumps are designed to move clean, clear water, other pumps – like the trash pump – are capable of handling thick and muddy water.
Before determining what pump you'll need, it's important to give the job site a thorough evaluation. Consider the friction between the pipe and the water, flow rate, where the pump will be placed and the materials that will be pumped before making your final decision.
Water that is contaminated with sticks, leaves, stones or other waste materials will require the use of a trash pump as opposed to a general-purpose dewatering pump. Settling for anything less can lead to flood issues from the debris build up, clogging of the pump or burning out the pump motor.
How trash pumps work
Despite multiple factors that dictate the pump type you should use, it's the solid content of the liquid that is one of the most important considerations. This is because some pumps have limitations on the size and hardness of the debris in the water that they can move. Thus, it's crucial to weigh up how contaminated the water you're pumping may be.
Trash pumps work by creating a low-pressure area above the level of water to pump both the liquid and debris mixture through. The fluids are directly drawn to fill the low-pressure areas because of the resistance. All water that enters this section will cover an impeller, which uses a siphon effect to move the solid matter. Trash pumps can run off AC/DC electricity, gas or diesel engines and are designed for any water clearing situations.
What type of trash pump do I need?
A pump is a pump, right? To the uninformed, one trash pump is like every other trash pump. However, each trash pump has a different delivery capability (how much water it can move in an hour), multiple features to consider, type and size. Other important considerations include how portable the trash pump is and the length of the cord to connect to a nearby power source.
Semi-trash pumps
As their name suggests, these pumps can only push through a small amount of debris because of the small opening. For anything more than slightly muddy and sandy water, you'll need a trash pump with bigger capabilities. If you're only using it for a small water removal job that doesn't consist of large debris (nothing larger than 15mm), a semi-trash pump can be sufficient. Make sure to use a hose with a strainer to eliminate any clogging issues.
Trash pumps
Regular trash pumps are designed to handle debris and other solids such as twigs, leaves, pebbles, sand and muddy water. They feature larger discharge openings, larger impeller veins and pump housings to get rid of the debris, making them suitable to use on construction and building sites. You won't need to grind or pump the machine to remove the waste from the water as everything leaves the pump intact. These trash pumps are designed to move water with leaves, pebbles and other debris up to 30mm.
Tip: using a regular trash pump with a hose and strainer is still recommended to avoid build up. It also makes the pump easier to clean if it does get clogged.
Portability can also play an important factor with trash pumps, especially if you're removing water across a large area and want to complete the job more efficiently.
Diaphragm pumps
Although they effectively do the same thing as a regular trash pump or a semi-trash pump, diaphragm pumps work a different way. The diaphragm inside the equipment is pushed up and down to create a vacuum effect. As it pushes down, the water is ejected, along with the debris, mud and sewage. These pumps are better suited for natural disaster clean-ups or draining a thickened pond. These pumps usually require a lot more maintenance than regular trash pumps and semi-trash pumps.
Features to consider
Regardless of what trash pump you choose, essential features to consider include:
• Adjustable speeds
• Wet-prime pumps v run dry capable: generally, pumps can only work when pumping water but some models can pump without any external lubrication or fluid for long periods of time. Other pumps may be self-primed.
• Maximum discharge flow and pressure
• Different power sources: electricity, petrol, diesel fuel, compressed air, water, natural gas or steam.
How to get the most out of your trash pump
The type of trash pump you choose will ultimately be determined by the job at hand. To get the most out of your investment though, it's important to consider quality design, manufacturer's guarantee, durability and maintenance requirements. Generally, wet-prime trash pumps can last 20-30 years with regular maintenance.
Maintenance is key to boosting the longevity of a trash pump. Although reputable pumps are built for extreme usage, they still need some TLC to keep things flowing smoothly. You should always check the maintenance information with your chosen trash pump type, but here are a few tips to keep your investment in working order:
• Oil levels in the mechanical seal and bearing cavity should be checked every 200-250 working hours. A simple look at the pump's gauge will help you maintain the right levels. The mechanical seal is the most vulnerable part of the pump – check its lubrication system regularly. Wet-prime pumps will need to be primed before starting the engine.
• Check the suction pipe and hose for any leaks, and tighten fittings.
• Use a proper hose strainer to prevent clogging. The suction strainer on this should be checked on a regular basis.
• Familiarise yourself with all the pump's components as these have a direct impact on its ability to pump and for how long. Investing in a pump with a high-quality impeller is vital, as this is the part of the pump that gets the biggest beating. A high-quality engine is also ideal.
One of the key advantages of trash pumps is the fact they pass the debris through as it is, rather than grinding it up and potentially ruining your pump. These workhorses are designed to last. Just make sure you choose the right trash pump for the job, and keep up the specified maintenance requirements.
Jayde Ferguson writes for Able Sales – an Australian wide supplier of quality diesel and petrol trash pumps suitable for waste water removal. You can catch her on Google+.