Published 17-11-2020
| Article appears in November 2020 Issue
Trapezoidal threads and nuts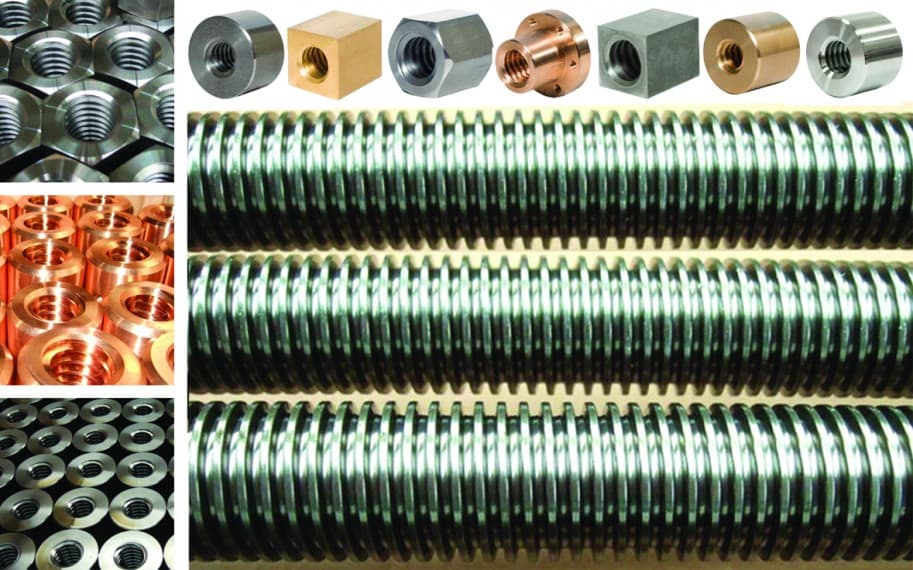 Trapezoidal threads are a common screw thread profile offering high strength with ease of machining and assembly.
Typically these threads are found where large loads or accuracy is required, as in vices where the thread is used to supply compressional holding force, or the lead screw of a lathe where the thread is used to convert rotational motion into linear motion.
Trapezoidal thread and nuts are power transmission screw threads similar to the Acme series but made to metric dimensions and standards instead of imperial sizing.
One subtle but important difference between Acme and Trapezoidal thread is the flank angle. Acme threads have flank angles of 29° whereas Trapezoidal threads have 30°.
All trapezoidal thread have lead angles of  5° or less making them self locking, therefore the screw will not back-drive under most conditions, eliminating the need for brakes or other holding devices.
T.E.A. Transmissions' standard range of threads are cold formed using a unique, highly accurate thread rolling process which guarantees a smooth, high quality thread.
The range of applications for T.E.A. trapezoidal thread spindles is expanded, as it is possible to choose from threads produced from steel or stainless steel.
T.E.A.'s standard steel material is C15 or C45 on request, also in 304 stainless standard and 316 stainless on request with nuts produced from bronze, steel or stainless steel also.  Nuts are available in a range of round, hex, flanged and square types to accommodate your application.
Steel nuts however, are not intended for motor driven motion screws.  For this duty bronze nuts provide the superior service and at a higher working loads. T.E.A.'s stock range now includes both right and left forms with some sizes being available in lengths up to 3000mm.
T.E.A Transmissions Pty. Ltd, sales@tea.net.au,  www.tea.net.au