TRAINING FOUNDATION LAUNCHED TO INSPIRE YOUNG WORKERS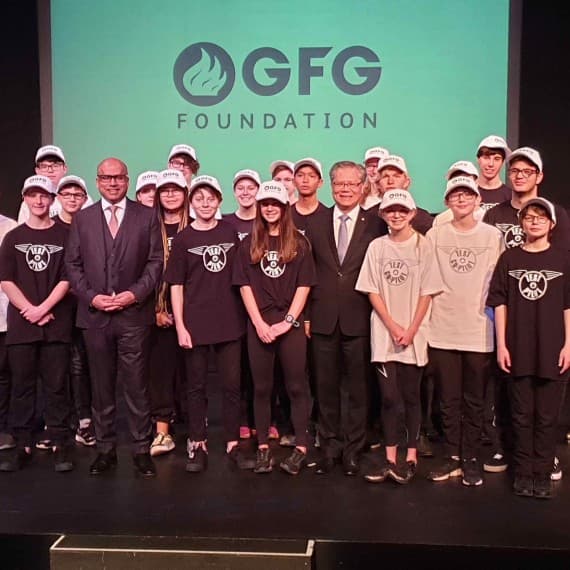 Sajeev Gupta with SA Governor Hieu Van Le and some of the participants: "an exciting, rewarding and ongoing relationship"
GFG Alliance Executive Chairman Sanjeev Gupta and his wife Nicola have officially launched the GFG Foundation programme in Australia, in the presence of SA Governor Hieu Van Le. The Foundation aims to invest in local youth and inspire the next generation of skilled manufacturing workers.
Sixteen Whyalla youth were welcomed as the first 'test pilots' for the programme, which will help young people gain a better understanding of industry and the opportunities it presents through high‐quality work experience and mentoring by industry role models.
Gupta says this programme will be the start of an "exciting, rewarding and ongoing relationship" between the Foundation and the youth of Whyalla.
"Coming from a family of industrialists, while growing up I had the opportunity to spend time in steel works and engineering plants," he says.
"That left a lasting impression on me and really inspired me to pursue an active career in industry, so I see the GFG Foundation providing a similar experience for these young people and am very excited about its promise in Australia."
He says that the key to GFG's ambitions of reinvigorating the local manufacturing industry in Australia, is ensuring Australia's next generation has the skills and motivation to enable the nation to be competitive and successful on the world stage.
"In starting this programme in Whyalla as a test market, these first 16 'test pilots' are all intrinsic to its future success and I thank them very much for playing that role with such commitment and enthusiasm," he says.
"I very much look forward to seeing these fine young people develop their knowledge, life skills and confidence as the programme progresses, so they can eventually become future leaders in this great Whyalla community."
As well as GFG's operations, the participants will also have access to numerous University of SA facilities and workshops, and learn about the various opportunities the campus offers.
The Guptas first established the Foundation as a UK charity in 2016. Although leveraging off the UK's Industrial Cadets programme – which was inspired by The Prince of Wales and which Gupta is an ambassador of – this new programme will be unique to the needs of the communities in which GFG operates.
Gupta says this first programme will serve as a test case, enabling GFG to roll out more ambitious and expanded programmes across Australia from next year.
"We are taking the best of the Industrial Cadets programme and combining it with an energy and optimism that is wholly Australian, and what better place to capture this spirit than Whyalla?", Gupta says.
"I want to thank everyone who is part of this special day. I will be following the progress of the foundation's work in Australia with keen interest and great pride."