TRAINING AWARD FOR INDUSTRY 4.0 APPRENTICESHIP PROGRAMME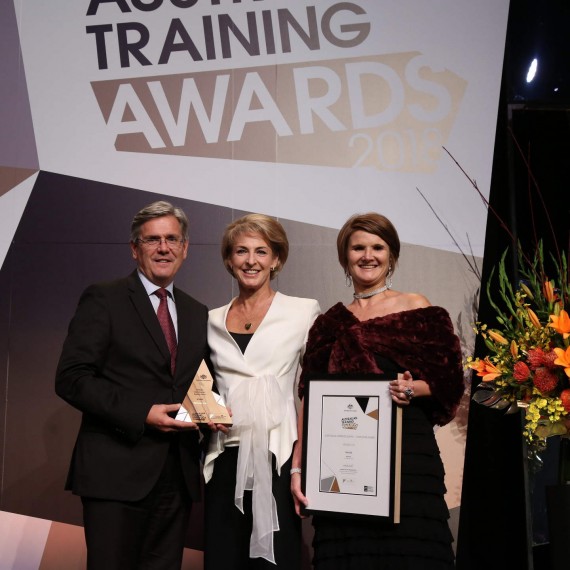 Jeff Connolly receives the award from Senator Cash
Two years ago, Siemens Australia collaborated with Swinburne University of Technology, Melbourne and the Australian Industry Group (Ai Group) to develop a first-of-its-kind digital apprenticeship, the Industry 4.0 Apprenticeship programme.
Recently, the programme won the Apprenticeships – Employer Award at the 2018 Australian Training Awards held at the International Convention Centre, Sydney. These recognise students, trainers, training providers and employers demonstrating excellence in vocational education and training, and were awarded by Senator Michaelia Cash, Minister for Small and Family Business, Skills and Vocational Education.
Siemens Australia CEO and Managing Director, Jeff Connolly said: "This is an incredible honour and a privilege for Siemens. When we started the programme two years ago, we had no clear job descriptions for the apprentices, but were determined to collaborate and equip them with the right digital skills for the future.
"While the awards are great recognition of our combined efforts, we're particularly proud of giving the first batch of 20 apprentices pathways to work in Australia and globally. The outcomes are evident as we are already seeing real skills for real careers with this unique and innovative programme."
The programme combines classroom-based theoretical learning at Swinburne and practical application of that learning to projects at Siemens. The apprentices experience digital technologies such as cybersecurity and cloud services, smart product design, predictive analysis, robotics and digital twin, augmented reality, advanced electrical machines and software tools for Industry 4.0, and the first batch were among the first people to work on MindSphere, Siemens' new cloud-based open IIoT operating system.
Speaking about how the programme fits into Siemens' strategy for the region, Connolly added, "We see Industry 4.0 as a framework for societal transformation. Given the rapid pace of change owing to technological disruption, the preparation for the future of work, skills and education cannot just be left to education institutions alone. Industry needs to collaborate with academia and governments to support this progress.
"In addition to the apprenticeship programme, our strategic initiatives to build Industry 4.0 capabilities across Australia include high-tech Siemens software grants to select universities to give students access to the same tools as our experts worldwide and supporting the establishment of Industry 4.0 test laboratories to help SMEs gain experience in this technology."