TRAILER MAKER LENDS A HELPING HAND (OR TWO) AT CHRISTMAS
08-12-2017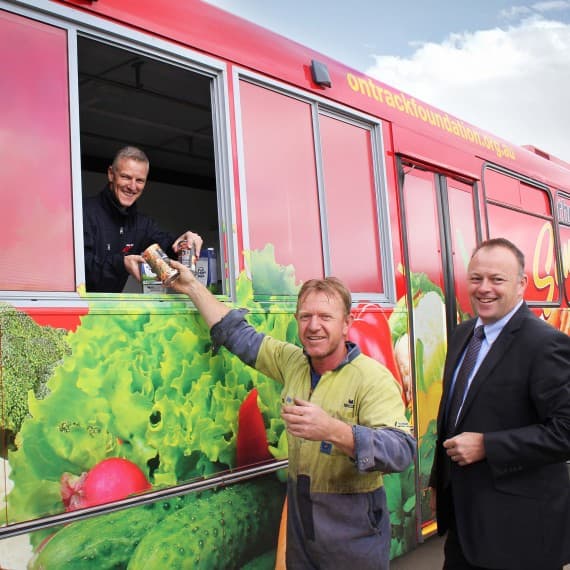 MaxiTRANS staff donate to the nonperishable food drive
Trailer manufacturer MaxiTRANS has stepped up its charitable work in the run up to Christmas, with a number of initiatives aimed at helping the homeless and less fortunate.
The company was approached by the OnTrack Foundation asking for assistance with its Soup Bus after-dark meal service that provides meals to the homeless and less fortunate in the Ballarat region five nights a week, 52 weeks a year.
MaxiTRANS agreed to supply the resources to paint a new Soup Bus using the same modern, high quality paint booth that it uses to produce its leading semi-trailer brands, with paint supplied by PPG. The second Soup Bus will be on the road in time for Christmas.
In previous years, MaxiTRANS staff have also provided assistance to the Soup Bus by contributing to donation drives for items such as UHT milk and pasta. This year, MaxiTRANS staff again participated in a nonperishable food drive.
The OnTrack Foundation uses donations such as those from MaxiTRANS' non-perishable food drive to keep the Soup Bus running. According to OnTrack's website, all board members and crew are volunteers, ensuring 100% of the donations raised go back to helping those in need.
In addition to helping the Soup Bus, MaxiTRANS donated the cost of its annual customer Christmas gift programme to food charity, SecondBite.
SecondBite works with more than 1200 community food programmes across Australia to redistribute rescued food to those in our community who need it most. MaxiTRANS' donation will help SecondBite to deliver an additional 20,000 meals in 2017/2018 to Australian families going through tough times.
"These charitable donations are aimed at helping to ease the added pressure often felt by charities at Christmas," said MaxiTRANS Managing Director and CEO, Dean Jenkins.
MaxiTRANS
03 8368 1100
www.maxitrans.com