TRAFFIC-EATING ROAD TRAINS TRIALED IN CHINA
25-05-2016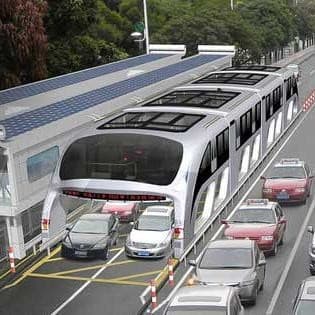 Strange-looking 'straddling busses' can hold over a thousand people, and run along existing roads without disrupting existing traffic.
The downside is they look a bit strange, but that's a small price to pay for alleviating the traffic and pollution problems facing Chinese cities.
It looks something like a moving tunnel: three extra-sleek train carriages, joined together with their lower decks hollowed out, forming a 'straddle' shape that doesn't impede traffic flow.  
Cars drive right through the lanes underneath, and commuters would board and alight from a raised platform.
After trials at expo's around the country, the construction of these busses, and the relatively lightweight tracks they will run on (think something akin to Sydney's lightrail tracks) is looking more and more likely.
Each bus, if deployed, will save 800 tonnes of fuel each year, and take hundreds of cars off the road.