TRAFFIC BARRIERS REINFORCE SAFETY CULTURE AT LOSCAM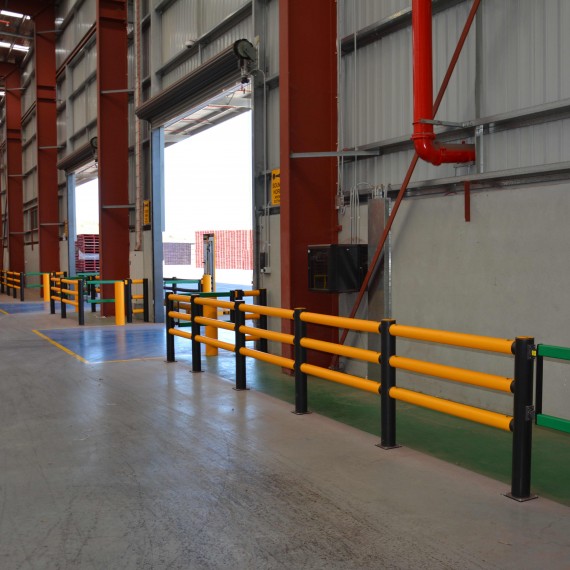 Loscam is one of Australia's longest standing supply chain solutions companies, having been founded in 1942 under the name LTC to reflect the names of its founders. The Loscam name was adopted in 1957, by which time the company was a major manufacturer of wooden pallets.
While today the company's ownership may have changed and its range of solutions has expanded considerably to include other returnable packaging systems, wooden pallets still play a major role.
Loscam's Australian pallets are predominantly manufactured in Victoria using sustainably sourced local pine timber. After use, each pallet is returned to Loscam, checked for damage and repaired if necessary before being put back into service.
The scale of this inspection and repair process is immense for Asia-Pacific's largest pallet pooling company, and so Loscam operates a string of facilities around Australia to service the requirements of more than 3500 customer companies.
The newest of these facilities opened late last year on a 4-hectaire site at Erskine Park in Western Sydney. The 4400m2 depot can store up to 300,000 standard Australian pallets, and processes them through its inspection and repair process.
That level of throughput involves considerable vehicular traffic, both outside and inside the depot, with lift trucks used to load and unload outbound and inbound semi-trailers and to move stacks of pallets between the yard and the destacker repair line.
Loscam sets great store on its health and safety performance, and the company employs health and safety experts to continuously monitor and improve health and safety standards through regular risk assessments, audits and training.
So when the new depot at Erskine Park was being set up, great care was taken to design the site so that pedestrian and vehicular traffic would be properly segregated to significantly reduce the risk of unwanted interaction.
Natasha Robertson is State Manager for NSW and ACT at Loscam, and has responsibility for the Erskine Park site.
Before the Erskine Park depot had been completed, she was visiting a Loscam customer's recently established distribution centre at nearby Huntingwood and was immediately impressed with the newly installed A-Safe safety barriers.
According to Natasha Robertson: "Seeing the A-Safe iFlex barriers in the flesh was an eye-opener. I liked the safety qualities they provide – both visually and physically – and I particularly liked the fact that they don't break and therefore don't require replacing for every impact."
"Once I saw them in action, and saw videos of the impact tests they survive I realised that they would be perfect for Erskine Park," she added.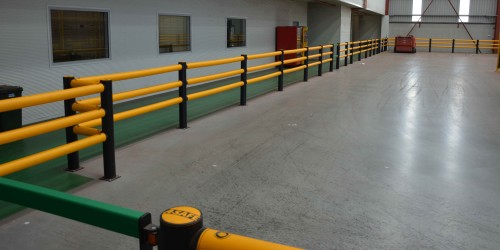 The A-Safe Australia team supplied and installed iFlex three-rail barrier throughout the facility to segregate vehicle and pedestrian traffic, and ensure a safe and protected facility throughout. Manually operated gates are included to alert pedestrians when they are about to cross a vehicle route.
There is also an additional installation of heavy-duty A-Safe Atlas traffic barriers in the yard to protect the site's gas supplies from manoeuvring vehicles.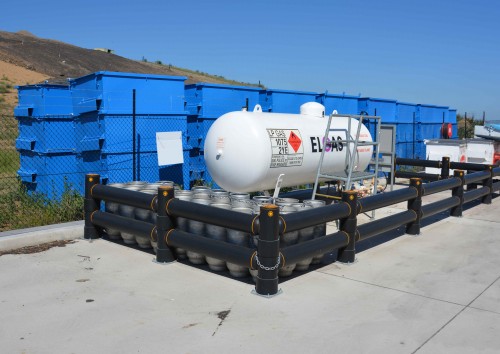 All iFlex barriers are manufactured using the company's Memaplex plastic to provide industry-leading workplace protection. On impact, they absorb kinetic energy, dissipating it through the barriers before flexing back to their original shape. They are also self-coloured, and so need minimal maintenance and no painting.
In the first six months of operation of the Loscam Erskine Park facility, there have been no safety incidents to report. While some materials have been pushed against the A-Safe barriers, they have withstood this without damage while preserving the integrity of the pedestrian walkways they are designed to protect.
And the only maintenance required has been to wipe them down with a damp cloth to remove sawdust and other airborne dust that has settled on them.
Natasha Robertson sees the A-Safe barriers as an integral part of the safety culture at Erskine Park, and says: "Visually, the barriers provide unambiguous guidance as to where pedestrians should go and vehicles should go. For a company like Loscam that takes safety very seriously this fits very well with our culture."
"Their performance in deflecting and absorbing energy in the event of an impact is amazing. But we'll be more than happy if that aspect is never put to the test at Loscam Erskine Park," she concludes.
A-Safe Australasia
02 9625 8927
www.asafe.com