TRAFALGAR KEEPS AUSSIE MADE TRADITION ALIVE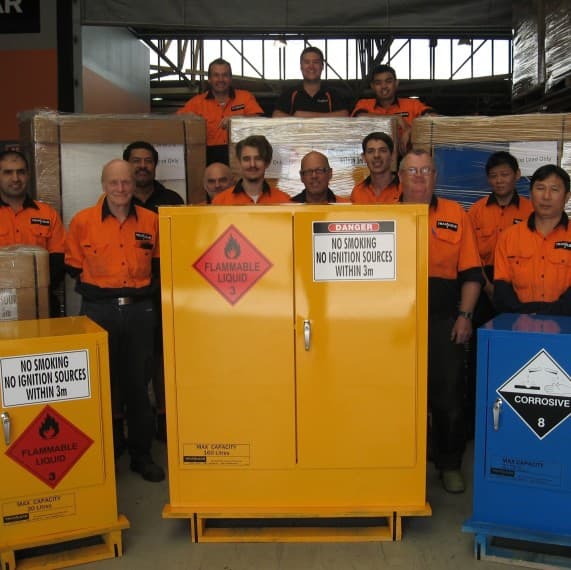 With the decline in manufacturing on home soil, one Sydney based company is keeping the tradition alive, creating local jobs and supporting the Australian economy.
Trafalgar, a proud Australian family owned business, manufacture an all-inclusive range of dangerous goods storage cabinets, fire rated and other specialty access panels and fire door hardware from their Western Sydney facility.
Sourcing all materials from Australian suppliers, Trafalgar ensure their high quality products are truly Australian made.
Trafalgar manufacture a range of dangerous goods storage cabinets in various sizes and sell direct to the public.
The range includes flammable, corrosive, toxic, organic, oxidising, emergency information and aerosol storage cabinets, which are all built in accordance with Australian Standards.
A full range of spare parts, including additional shelves and closing mechanisms are also available. You can view the range at www.tcabinets.com.au
Trafalgar's range of Fire Rated Access Panels are engineered and constructed to be lightweight and compact, allowing for an aesthetically pleasing means of providing access into walls, ceilings and service shafts.
Available in various sizes, they have been fire tested to Australian Standard AS1530.4 and have attained up to a two-hour fire rating.
In addition, Trafalgar also custom manufacture all-metal, tip latch, customwood, tiling and security access panels to suit customer requirements.
The Trafalgar Fire Door Hardware range includes manufacture of Fire Door Damper Kits which are fully fire tested and approved intumescent fire damper assemblies fire use in fire rated doors.
Trafalgar's Vision Panel Kits are also fully tested and approved system for providing vision through fire rated doors. Both products are available in standard sizes.
Trafalgar's manufacturing arm employees 16 and with, in excess of 35 years combined experience, Trafalgar's senior sheet metal workers are passing their wealth of knowledge and skills onto the next generation to ensure the tradition of manufacturing locally continues in Australia.
Trafalgar
Ph: 1800 888 714