TRADE DEAL OPENS UP CHINESE E-COMMERCE MARKETS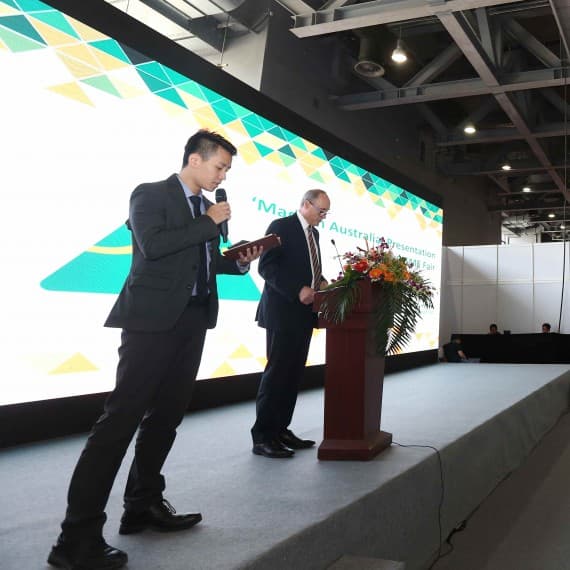 Ian Harrison addresses the Chinese International SME Fair in Guangzhou
The signing of a memorandum of understanding between the Australian Made Campaign and the Guangdong Cross-Border E-commerce Industry Association (GCEIA) offers a new route to Chinese markets for Australian manufacturers.
The GCEIA is an organisation comprising more than 2000 Chinese e-commerce businesses from retailers to logistics companies. And the agreement has been signed against a backdrop of increasing demand for Australian goods in China.
The MoU was signed at the China International SME Fair, held in Guangzhou, China in October. The signing followed an address by Australian Made Campaign Chief Executive, Ian Harrison, at a special Australian Made event within the fair.
As part of the agreement, the GCEIA will educate Chinese e-commerce players about the significance of the Australian Made symbol, and promote the campaign's online product directory.
(Only products that have been certified as having been made or grown in Australia can feature on this platform, which showcases the largest consolidated range of certified Australian-made and grown goods the country has to offer.)
Ian Harrison said the new deal will offer local businesses a valuable market channel, pointing out that: "Cross-border e-commerce is a lucrative opportunity for Australian businesses unable or unwilling to access the Chinese market via traditional trade channels, due to size, time or cost constraints."
"Local knowledge is everything, and the GCEIA can connect Australian businesses with the resources and contacts they need to start out or expand their sales in China," he concluded.
Australian Made Campaign
1800 350 520
www.australianmade.com.au