TRACKED SCISSOR LIFT GOES WHERE NONE HAS GONE BEFORE
28-11-2016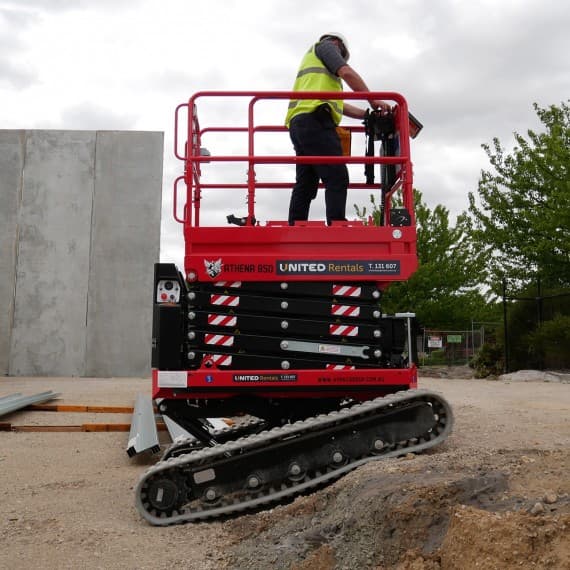 A bi-levelling compact tracked scissor lift that can safely traverse slopes and terrain where access equipment could not previously operate is being introduced to Australia by United Forklift and Access Solutions.
The Athena 850 bi-levelling tracked scissor lift – believed to be the first scissor lift in the world with such capabilities – levels on its axis in longitudinal and lateral directions to operate on slopes and undulating terrain where conventional scissor lifts cannot operate.
Conventional scissor lifts are typically limited to slight inclines of 2-4 degrees, whereas the Athena 850 scissor lift safely handles terrain variations up to 50cm front and back and 38cm side-to-side on uneven terrain, or inclines up to 20 degrees, says United Forklift and Access Solutions' General Manager, Sales, Marketing and Distribution, Trent Osborne.
Marketed under the headline 'the only one of its kind in the universe,' the compact and versatile Athena 850 won both the international (IAPA) and Australian New Product of the Year awards (HRIA) for 2016. With a minimum operating width of 1300mm, basket capacity of 250kg and a maximum working height of 7.9m, the machine has a huge range of applications.
"Tracked scissor lifts already existed before the Athena, but what makes this machine unique is its bi-levelling technology, which is found only on the Athena," says Osborne. "The Athena is built tough for indoor and outdoor work, where its design and functional superiority removes limitations inherent in conventional mobile scissor lifts. This greatly extends the machine's safety versatility and value in the workplace."
The Athena 850 features a compact Hatz 1B40 diesel engine with 220V 2kW auxiliary electric pump and 220V 1kW power generator that makes it possible to operate the scissor lift indoors and in areas where the use of combustion engines is not allowed. An optional kit is available for high-speed use (maximum 2.2km/h).
"The Athena is simple to control and extremely adaptable to difficult and undulating terrain and worksites, indoors and out. Its structure has been designed to resist overload, with high-resistance steel lifting mechanisms," says Osborne.
United Forklift and Access Solutions is one of Australia's largest privately owned forklift and access equipment companies, with Australia's most extensive range of forklift, scissor lift and boom lift equipment for sales and hire.
United Forklift and Access Solutions
www.unitedequipment.com.au