Toyota urges motorists to Buy Australian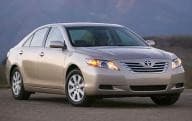 Toyota has embarked on a major Buy Australian initiative by offering zero per cent finance across the entire range of Australian built vehicles. 
The special comparison interest rate applies to current-generation Camry, Camry Hybrid and Aurion sedans, which are built in Toyota's manufacturing plant at Altona in Melbourne's west.
The finance offer is a means of demonstrating Toyota's confidence in its locally manufactured cars as they compete head-to-head with imports that benefit from the strong Australian dollar.
Zero per cent finance will appeal to new car buyers by lowering weekly repayments.
Toyota's executive director sales and marketing Matthew Callachor said the finance offer was an extension of the company's recently announced Local Pride campaign.
"Zero per cent is a way to encourage Australians to rediscover the value and other attributes of cars we build here," he said.
"It means more Australians than ever will be able to experience the style, driving appeal, advanced features and quality of Toyota cars that are built with passion and pride."
Toyota has a substantial investment in people and facilities at its Australian operations and produces more cars in this country than any other car maker.
"Over many years, we have successfully exported several times more Australian built Toyota cars than we sell locally," Mr Callachor said.
"Our long-term aim is to shift this balance closer to 50:50. We are supporting that objective by reminding local motorists that Camry and Aurion are built by Australians for Australians."
Toyota has built almost three million cars in Australia since local manufacture began 49 years ago.
Toyota Australia employs more than 4000 people and last year built 96,618 vehicles at Altona.
The company will commission its new $330 million engine plant at Altona late this year.