Toyota unveils new engine plant
31-08-2010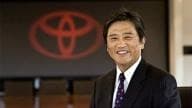 Toyota Australia has opened a new state-of-the-art engine plant, making it the first Australian car manufacturer to produce both petrol and hybrid engines. 
Located in Altona, west of Melbourne, the plant will produce about 108,000 four cylinder 2.5 litre engines per year for its locally built Camry and Camry Hybrid sedans. 
The new, more fuel efficient engines will also be exported to Thailand and Malaysia. 
Prime Minister Julia Gillard attended the new opening along with Victorian Premier Ted Baillieu, Federal Minister for Industry and Innovation, Greg Combet, Victorian Minister for Manufacturing, Exports and Trade, Richard Dalla-Riva, Mr Seiichi Sudo, Senior Managing Officer, Toyota Motor Corporation and the Ambassador of Japan Mr Yoshitaka Akimoto.
Toyota Australia President and CEO, Mr Max Yasuda said the opening was a proud day for the Australian car industry and testament to the company's team members who helped secure the new engine plant investment. 
"This is a great day for Toyota Australia, Mr Yasuda said. "The official opening of the new engine plant is part of our overall mission to transform our operations and build a more sustainable business.  
"We are now one of only four countries in the world to produce the AR four cylinder engine and are the first Australian car manufacturer to produce petrol-electric hybrid engines."
Mr Yasuda said the unveiling demonstrated the efforts Toyota was taking to transform its operations to ensure local car manufacturing can maintain its presence in a highly competitive marketplace.
The engine plant has been in development since October 2011. It replaces the original engine plant built in 1978, which was Toyota's first engine manufacturing plant built outside Japan. The plant will go into full production from January 14 next year and produce about 450 engines a day. 
Toyota Australia has been building cars in Australia for almost 50 years. 
In August it achieved one million exports sales – the first Australian manufacturer to do so.