TOYOTA MANUFACTURING ASSETS TO GO UNDER THE HAMMER ONLINE
28-06-2017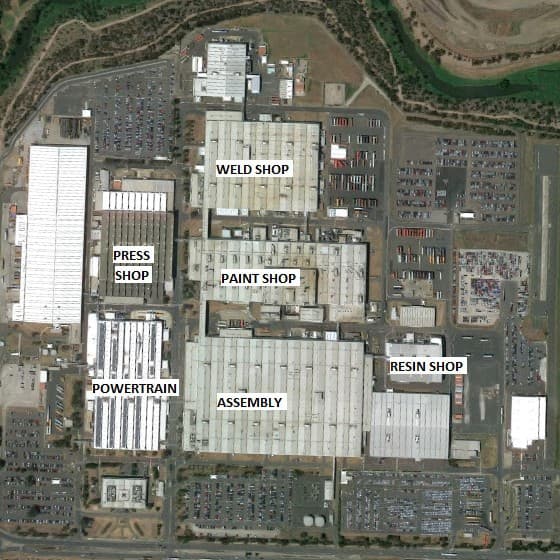 GraysOnline has been awarded the contract to dispose of the majority of the manufacturing assets from Toyota Australia's Altona plant, which is scheduled for closure in October 2017. The sale of the assets will be handled jointly by GraysOnline and its Global partner Hilco Industrial, which will add its international reach to the potential market.
The fully integrated Altona manufacturing plant includes state-of-the-art engine, weld, paint and assembly shops that have been used to produce cars that are independently recognised as Australia's best quality locally built vehicles.
Because of the fully integrated nature of the Altona plant, the sale will be the most comprehensive ever undertaken in Australia, with items ranging in scale from press lines to robotic welding cells to handtools.
The engine plant, in particular, will attract a lot of interest, having been refitted as recently as 2012 to produce the company's latest generations of petrol and hybrid engines.
GraysOnline and Hilco Industrial have already begun marketing the equipment to manufacturers worldwide - www.graysonline.com/toyotaplant.
According to Lloyd Gourel de Saint-Pern, National Automotive Manufacturing Manager at GraysOnline, the first tranche of equipment will be sold by private treaty with inspection welcome now and offers accepted up until end of production early in October 2017.
He says: "We are already in talks with interested parties, and we're inviting anyone who has an interest to come and talk to us as soon as possible. Scott Matthews and Logan Fenemor Project Leads from GraysOnline are based at the Altona plant and are available any time to assist potential buyers."
"Some specialised equipment will be kept within the Toyota Group and reused in other facilities around the world. But a large portion of the equipment used in this major facility will be available to the market," adds Gourel de Saint-Pern.
"We expect strong interest for the leading edge equipment from some of the developing Asian automotive manufacturers. But there will also be plenty of top quality equipment available for Australian manufacturers outside the automotive sector."
Once the private treaty sales have been completed, the remainder of the equipment will be sold through online auctions via the established GraysOnline sales channel.
The Toyota disposal will follow a similar model to that used by Grays and Hilco in the sale of the Mitsubishi car manufacturing plant in Adelaide during 2008 and 2009. In that case, multiple private sales to Asian based manufacturers accounted for the press lines, vehicle stacking system and Hemming presses.
The remainder of the assets were sold over the course of 36 online auctions, with more than 6600 lots offered, attracting more than 21,000 bids from locations across Australia and internationally.
GraysOnline is also currently working with multiple auto parts suppliers in Victoria and South Australia. Sales have already started for Chassis Brakes International, Ai Automotive, Metalsa, Denso, and future projects are scheduled for Toyoda Gosei, Toyota Boshoku and Continental.
According to Lloyd Gourel de Saint-Pern: "The closure of Australian OEMs Toyota, Holden and Ford have ultimately meant that the vast majority of Australian parts manufacturers will also be shutting their doors here late in 2017. Albeit a challenging time for many businesses and staff, GraysOnline offers the best avenue to market for all our clients' assets and provide assistance through the challenging transition period."
All GraysOnline projects can be found under GraysOnline's Automotive Manufacturing category; enquiries and inspections are welcome.
GraysOnline
0400 827 333
www.graysonline.com