Toyota launches local pride campaign
31-08-2010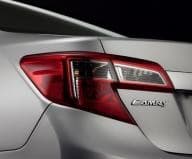 Toyota Australia has launched a new campaign to promote the passion and pride behind the people that build its locally manufactured cars.

Supported by the tagline Built by Australians for Australians, the campaign features six employees and provides insights into what it takes to build a car – quality, passion and determination.

Scott Thompson, Toyota's Division Manager National Marketing, said the campaign would provide the general public with a new perspective of our locally built Camry, Camry Hybrid and Aurion vehicles. 

"What better way to promote locally built vehicles than to hear from the people that build them," Mr Thompson said.

"The six employees that feature in our campaign all nominated themselves because they are proud to play a part in making something bigger. They have all physically touched and put their heart into making every vehicle that leaves our plant.

"You can't escape the passion in their voice or look of pride when they are going about their day-to-day job. They are the people that make Toyota what it is today and we are incredibly fortunate to have such a dedicated and passionate workforce."
Toyota Australia employs more than 4000 people and last year built 96,618 vehicles at its Altona manufacturing plant in Victoria.
The one minute TV commercial can be viewed at http://www.toyota.com.au/toyota-tv/LM-pride.