Toyota exports on a high
31-08-2010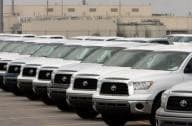 Toyota Australia last month recorded its second highest monthly export figures for the 2012/13 financial year.
A total of 7,383 Camry, Camry Hybrid and Aurion vehicles were exported during the month of March.
Of these about 97 per cent of vehicles were sent to the six Gulf Cooperation Council (GCC) countries, including Bahrain, Kuwait, Oman, Qatar, Saudi Arabia and the United Arab Emirates. The remainder were exported to New Zealand, Yemen and the South Pacific Islands.
The total exports for the financial year ending March 31 were 69,762 vehicles.
Toyota Australia Executive Vice President and Chief Operating Officer Dave Buttner said the export program was a significant part of the company's overall business strategy.
"The competitiveness of our export program would be enhanced if an Australia-GCC free trade agreement could be reached," Mr Buttner said.
"We are supportive of the work being undertaken by the Minister for Trade and Competitiveness Dr Craig Emerson in continuing to register the Australian Government's interest in this agreement.
"The fact that we have strong exports is an indication of the high quality and durability of the vehicles we build here in Australia.
"We have now exported more than one million vehicles, which is more than any other Australian manufacturer.
"In addition, our new four-cylinder AR engine plant has opened up new export markets in Thailand and Malaysia which strengthens our export program and overall business strategy."
Exports account for approximately 70 per cent of Toyota Australia's local production.
The highest month for exports in the 2012/13 financial year was recorded in August 2012 with 8,470 vehicles.