Toyota to axe 100 jobs at its Melbourne plant
31-08-2010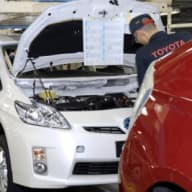 Toyota Australia will cut up to 100 jobs at its Altona manufacturing plant in Victoria in a bid to improve viability.
The decision is in response to a drop in export orders, making it unsustainable to keep the manufacturing workforce at its current size, the company said in a statement.
Exports make up about 70 per cent of Toyota Australia's total production volume.
Toyota has also announced a move to cut production from 470 to 430 vehicles a day from December and will aim to cut the cost of building each car in Australia by $3800 by 2018.
The decision follows an announcement by Ford Australia earlier this year to cease
local production in 2016.
The exact number of voluntary redundancies at Toyota will be based on the number of applications received and the skill-set of those employees. There will be no compulsory redundancies. 
About 2,500 people currently work at Toyota's Altona manufacturing plant.
President and CEO Max Yasuda said it was a difficult decision to make, but it is vital if the company wants to move towards global competiveness.
"Our employees are our greatest asset, so it is with extreme sadness that we have to adjust our workforce, Mr Yasuda said.
"As a manufacturer we are subject to fluctuating orders from our domestic and export markets, so we need to have the flexibility to respond to changes in conditions.
"We will now be working closely with all of our employees to ensure they understand why we have made this decision and support them during this difficult period."
The redundancy announcement comes just days after Toyota Australia reached a manufacturing milestone with the production and sale of its two-millionth locally built car for the domestic market.
The achievement coincided with the 50th anniversary of Toyota car manufacturing in Australia.
Australia is the first country outside Japan to produce Toyota cars, starting with the Tiara in 1963.
Toyota has been the top-selling car company in Australia for the past decade. In total, Australian motorists have bought more than 5.7 million Toyota vehicles.