Toyota Australia posts $220m yearly profit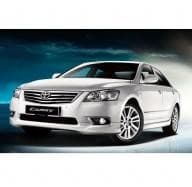 Toyota Australia has reported a profit of $220.9 million (after tax $149.1 million) for the year ending March 31, 2013.
Total revenue for 2012/13 was $8.9 billion, up almost 23 per cent on the previous year. Domestic retail volume of both Toyota and Lexus vehicles was more than 20 per cent higher with 225,599 sales in the same period.
The profit is encouraging in the wake of Ford's announcement last month it would cease production at its Victorian vehicle-making plants in 2016.
Toyota's profit rise is attributed to the return to full production following the impact of the Japan earthquake and Thailand floods during the previous 12-month period.
Toyota Australia vehicle production was up almost seven per cent in 2012/13 with 99,441 vehicles built compared to 92,880 the previous year.
A total of 69,676 of these vehicles were exported to the Middle East, New Zealand and the South Pacific Islands.
Toyota Australia President and CEO Max Yasuda said the company continues to introduce exciting new product offerings for Australian motorists, consistent with Toyota's global vision to provide customers with "always better cars."
"Our products have contributed to our continued growth. Last year we introduced three brand new vehicles – the Prius c, Prius v and the 86 sports car – along with many next generation vehicles, all of which appealed to Australian customers," Mr Yasuda said.
"Our locally built Camry, Camry Hybrid and Aurion vehicles continue to sell well in both domestic and export markets. This demonstrates we are building high quality and durable vehicles that Australian motorists want to buy and enjoy, with the Camry being the best selling vehicle in its segment for 19 years in a row."
The company also adopted new technology to remain globally competitive.
"We opened a new $330 million engine plant late last year, becoming the first Australian manufacturer to produce both petrol and hybrid engines. This has opened new export opportunities with Thailand and Malaysia and allowed us to enhance our local manufacturing capabilities," Mr Yasuda said.
Another factor contributing to the profit is Toyota Australia's company-wide transformation plan established to strengthen its business.
Mr Yasuda said the company was 15 months into a five-year plan developed in response to ongoing external challenges including the high Australian dollar, intense market competition and the high cost of materials. The main objective of the plan is to secure a solid foundation for future growth in Australia.
Toyota Australia employs about 4200 people across Australia.