TOWNSVILLE AUTO BIDS FOR LAND 400
26-09-2017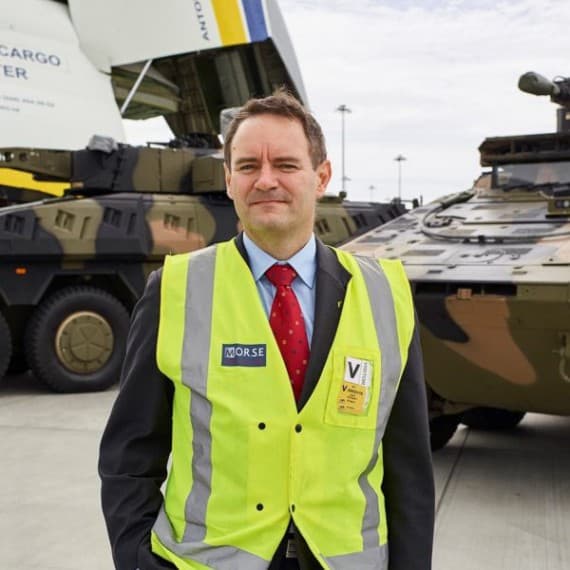 Gary Stewart at Melbourne Airport receiving the BOXER CRVs
Large international companies have been putting in significant bids for the Australian Defence Force's Land 400 project, but local manufacturers are still fighting hard. 
Extra jobs in Townsville are being promised, as a local division gets closer and closer to securing a $5 billion ADF contract, promising to bring more local manufacturers into their supply chain. 
Rheinmetall Defence Australia manufactures the Boxer 8x8 combat recon vehicle, and it wants to build and maintain 225 of the big machines for the ADF force, creaing a 'new generation' of armored military vehicles. 
Rheinmetall Defence Australia managing director Gary Stewart said during their roadshow around the state, they wanted to meet as many small and medium-sized enterprises as possible, as they looked at options for expanding their supply chain and including more local manufacturers. 
"This follows our decision to select Queensland as the future site of our Military Vehicle Centre of Excellence, a new state-of-the-art facility that will deliver military vehicles and systems to Australian Defence Force programs," he said.
Herbert MP Cathy O'Toole said the technical expertise the vehicle would bring to the Defence Force was second to none.
"What's really impressive about this, and Rheinmetall's bid, is it is about bringing jobs to Townsville and that is so important," she said.
"It's going to give the existing companies the opportunity to expand and to deliver a range of products.
"It's going to give us opportunities for our veterans and ex-service personnel … and this is going to create some apprenticeships and traineeships for our young people and that's really important for our economy at the moment."
Engineering company TEI Services is among the Townsville businesses hoping to be part of the construction process.
General manager Richard Parker said working on the Boxers would be a big win for the company.
"We'd obviously have to bring some more skills into the company and depending on how much of it we got we'd have to employ more people," he said.
"It gives us job security for our existing people."
Thuringowa MP Aaron Harper said it made sense for Townsville to be involved in the manufacturing and maintenance of the vehicles, as it was home to Australia's largest military base.
"What I like about today is there's a bipartisan approach from all sides of government," he said.