TOUGH TOOL HOLDERS ENGINEERED FOR ELEVATED WORK PLATFORMS
15-12-2016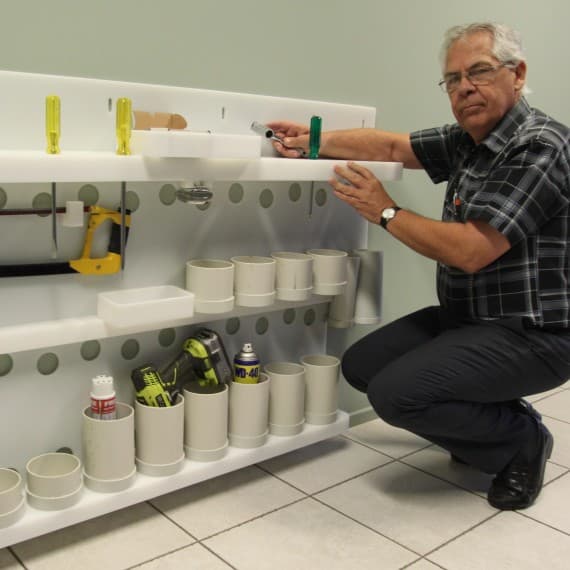 Pat Flood demonstrates a custom-engineered HDPE tool holder
Cut To Size Plastics has developed a range of lightweight tool holders for use in cherrypickers and other elevated work platforms. Made from high-density polyethylene (HDPE) these hardwearing tool holders are designed to enhance safety and improve productivity for anyone working at height.
The impact resistant containers can be supplied configured for a range of different tools to suit applications in industry, maintenance and installation. Their rugged construction from HDPE ensures that they exhibit good temperature tolerance, are highly flexible, have good chemical resistance, and are easy to wash down.
The HDPE tool holders are insulated for optimum safety when operating in electrical environments such as powerline maintenance and working on building electrical systems, where metal tool holders might increase the risk of electrocution.
"Not only are the tool holders custom-fabricated ergonomically so workers' tools are easily to hand for tricky jobs, but also they give an immediately safe and secure environment in which to place small, sharp, hot and/or hazardous tools and chemical solutions when they are not in use. People working at height and in tight spaces often say they need an extra set of arms to cope, so these designs give safety and efficiency a real helping hand by reducing unwanted problems and increasing efficiency," says Pat Flood, NSW Manager of Cut To Size Plastics.
Cut To Size Plastics
02 9681 0400
www.cuttosize.com.au