TOUGH HIGH-TONNAGE CYLINDERS FOR RELIABILITY AND SAFETY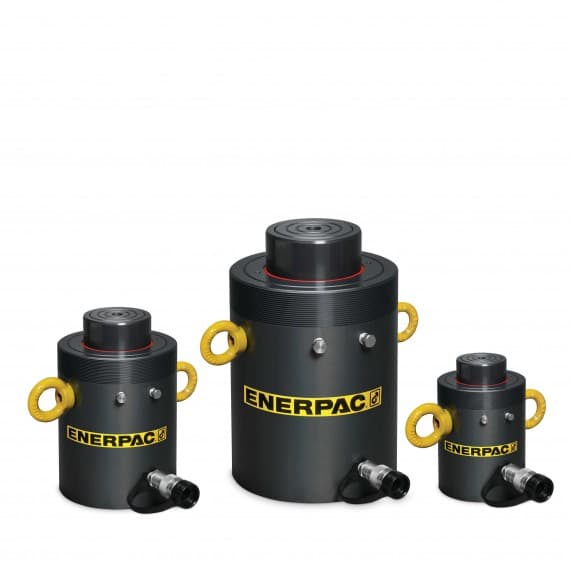 New generation Enerpac high-tonnage cylinders are engineered to meet demand for heavy lifts in some of the remotest and harshest land and maritime environments of Australasia.
Enerpac's Summit Edition HTC models are available in standard capacities from 50 to 1000t and are designed to provide optimum reliability, cost-efficiency and safety. Backed by the company's extensive service and technical engineering network throughout Australia, New Zealand and Papua New Guinea, they offer outstanding durability, longer service life, and greater side-load resistance for increased heavy lift capability and safety margins.
New engineering incorporated into the cylinders includes advanced bearing and sealing technology to extend the boundaries for eccentric loads, while reducing cylinder maintenance intervals.
In addition to the standard range of lifting capacities, individual HTC cylinders can be custom-manufactured to capacities greater than 1000t.
"The effects of corrosion and scoring are no longer a concern with the Summit range because of the cylinders' black nitrocarburisation surface treatment for improved load and wear resistance, plus corrosion protection," National Sales Manager Darryl Lange said. "Safety has long been a major feature of Enerpac cylinder designs, and these cylinders lift our outstanding safety record further."
The Summit HTC range is complemented by the latest CUSP and CULP series high-tonnage ultra-flat cylinders. The CUSP series, featuring an integrated tilting function with 10 to 1000t capacity, 7-17mm stroke and maximum operating pressure of 700bar, is designed for harsh conditions which require low clearance, especially industrial maintenance and construction applications. The CULP series has an integrated stop ring with 10 to 50t capacity, 6mm stroke and maximum operating pressure of 700bar.
Also available are pumping solutions proven throughout Australasia for applications prioritising speed, control and intermittent or heavy duty, including P series hand pumps, XC series cordless pumps, XA series air-driven pumps, ZU4 series portable electric pumps, ZE series electric pumps and SFP series split flow pumps.
Performance can be further enhanced by the use of the latest Venturi valve technology with ZE and ZU pumps. Return assisted electric pumps with Venturi valve technology provide faster retraction speed and improve the productivity of single-acting cylinders.
Enerpac Australia
02 8717 7200
www.enerpac.com