Published 30-11-2021
| Article appears in November Issue
Tough enough!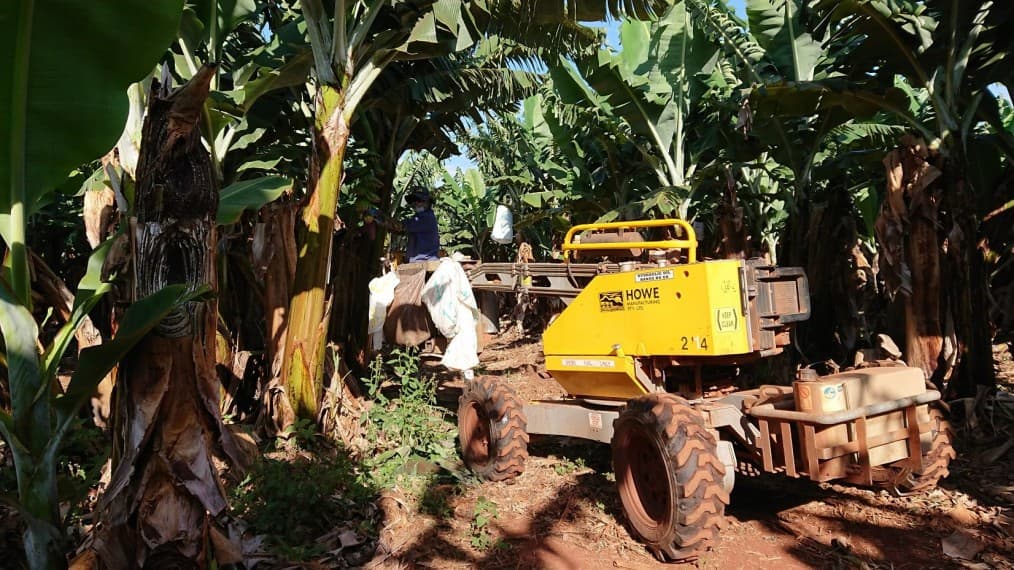 Australia/ New Zealand - Queensland is synonymous with healthy, delicious tasting fresh produce thanks to its unique climate, high altitude, and rich volcanic soil.
This is where family-owned business, Howe Farming was born. Strategically located on the Atherton Table Lands of North Queensland, Howe is the country's second largest producer of bananas, supplying the likes of Coles and Woolworths with fresh produce.
Howe Farming Group consists of three companies – Howe Farming Enterprises, Avocados with Altitude and Howe Manufacturing. Explains Tim O' Shea, Workshop Manager: "Our brands are Bananas with Altitude, Avocados with Altitude and Coffee with Altitude. When the first banana harvest began in 1996, it was noted that the fruit was significantly brighter, larger, and sweeter than other Cavendish bananas grown on the coast, and as such our "With Altitude" brands were born."
He adds: "Warm, humid conditions are ideal for bananas and thus our busiest time for bananas is during the summer months. Production slows toward the middle of the year as the weather cools; however, we continue to harvest for 52 weeks of the year."
Two to three million cartons of bananas are packed at three locations on the Atherton Tablelands – The Home Farm on Chewko Road, the Kay Road Farm, and the Steinhardt facility on the Kennedy Highway.
Going Bananas: Production Explained
After a bunch (or hand) of bananas is bagged, it must mature and fill out before the fruit can be harvested. "Once it is ready, it is brought into the packing shed by our harvesting crews and so the packing process begins" Tim explains.
The bananas are washed upon arrival and hands of bananas are then removed from their stalks and clustered into smaller bunches before being graded in a trough of water." Once quality checks are completed, they are packed according to size, stacked on a palette, consigned, and chilled for at least 24 hours before dispatch.
Quality is critical to Howe and Tim says that the company employs a full-time Quality Assurance team to ensure the reliable and consistent flow of high-quality produce.
The build and repair of existing machinery across the farms is handled by Howe Manufacturing, while routine maintenance is carried out by local mechanics. "We have built 45 bagging machines used to ripen bananas."
Backed by the Best
Powering Howe's bagging machines is Bonfiglioli. The companies have been working together for the past 12 years.
With a history spanning more than three decades locally, Bonfiglioli conceives, designs, and produces custom drives for a wide range of agricultural applications. These included sprayers, harvesters, feed mixers and forestry machines.
"We look for low maintenance solutions and Bonfiglioli meets the brief" says Tim.
Describing the application, Alan Young, Sales Manager for Bonfiglioli Queensland says that a mobile machine with a lifting platform is driven between the banana plants. "Making use of hydraulics, this machine is able to navigate tough outdoor terrain and is used by operators when pulling bags over the bananas."
It features a compact planetary 600 series from Bonfiglioli as well as two gearboxes – one for free wheel and one with a brake motor.
"The 600 series is the best solution when designing wheeled off-road machinery. With a compact design, high torque and load capacities, a negative multi-disk parking brake and an optional disengagement device to tow the vehicle in an emergency, these solutions match the application requirements to the tee" says Alan.
The greatest drawcard is its virtually indestructible composition. "Before we started making these machines, Howe owned other banana bagging machines and a variety of other wheel drives. They turned to us for a solution when the one fitted with Bonfiglioli never broke."
Describing the challenges faced by automation suppliers, Tim says that North Queensland is infamous for its harsh climate and all-year round, 24/7 crop production. "These machines live outdoor on the road and are often knee-deep in mud. There is also a lot of bailing string which comes off the crops and they tend to destroy the steel rings."
"Thankfully, Bonfiglioli has a steel mechanical floating seal so no string can get caught in it. It's incredibly robust and requires very little maintenance".
"12 years into the partnership and we have never had to replace one machine due to mechanical manufacturing faults. These machines work 30 – 49 hours per week on average in incredibly harsh conditions. We are satisfied with the robust design and low maintenance of the Bonfiglioli products" concludes Tim.