Tough ActivArmr gloves love tough jobs
31-08-2010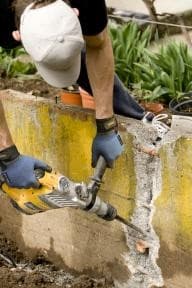 Comfort and protection … new ActivArmr gloves from Ansell
Ansell has released two new styles into its popular ActivArmr trade-specific range – the Heavy Laborer glove and the Mason glove. 
The new gloves were recently subjected to a series of rigorous trials and passed with flying colors.
"Both gloves rated highly in terms of abrasion resistance, durability and enhanced grip, said Ansell Asia Pacific Sales Director, Peter McCann.
"Importantly, wearers agreed that they could perform their tasks without removing the gloves," he said. 
"Impact resistance, puncture and cut resistance while retaining dexterity to pick up small objects also ranked highly. Significantly, comfort and appearance contributed to the high level of acceptance."
The Heavy Laborer glove is designed to protect the everyday needs of general labourers while working on demolition, excavation, pipe laying, concrete work and equipment operation. 
It provides EN 388 level 3 cut protection and a foam nitrile palm coating delivers enhanced grip during wet and dry applications.
Other user demanded features such as an adjustable wrist closure and an ID nameplate have been included. 
The addition of silicone gel impact vibration damping material means the stress caused by the use of hand and power tools is spread across several stress points.
The Mason's glove has been designed to directly address the need of masons.
Masonry workers laying bricks, concrete block or rocks told Ansell that they wanted improved durability, protection, enhanced grip, comfort and dexterity.
Featuring EN388 Level 3 cut protection, EN388 Level 4 abrasion protection and EN388 Level 2 puncture resistance, the ActivArmr Mason glove delivers the protection needed.
Ansell's Dyneema liner delivers superior comfort and dexterity, improved protection and increased breathability. 
Goat skin leather provides extra protection for critical areas of the palm. A polyurethane grip adds to the glove's breathability and comfort for all day use.
Ansell
Ph: 1800 337 041