TOSHIBA MACHINE INDUSTRIAL ROBOTS ON SHOW AT NMW 2016
10-05-2016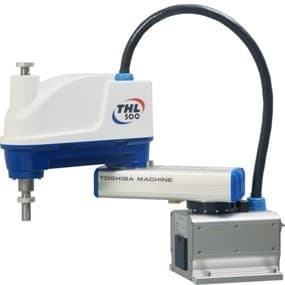 TM Robotics and Toshiba Machine Industrial Robots have partnered with M.A.P. Services to sell Toshiba Machine robots in Australia.
After many years of searching for the perfect partner, TM Robotics met M.A.P Services at this year's IREX show in Japan, where the two organizations discovered they were both looking for the same thing – the opportunity to sell top notch robotics in Australia. With this new relationship, M.A.P will now be able to give its manufacturing and production customers a full range of solutions from Toshiba Machine Industrial Robots, one of the only robotics companies in the world that delivers every type of robot a customer could want – Cartesian, 6-axis and SCARA.
The companies will kick off their relationship from Stand 1936 at National Manufacturing Week in Sydney this week.
M.A.P Services provides support and solutions for many applications in a variety of industries, including: automotive, food, beverage, paper, recycling, chemical and more. The company, along with TM Robotics, will be exhibiting Toshiba Machine Industrial Robot's THL500 SCARA and TVL500 6-axis robots from National Manufacturing Week.
The THL SCARA models satisfy the growing demand for affordable, flexible automation in applications outside of the traditional robot industries.
And because the lightweight system generates substantially less inertia, a simplified gearbox has been used. The net result is that these robots are the most energy efficient in their class.
With the TVL 6-axis models, the unique design allows for easy extensions with further generations of the model, based on the same concept, and it is an easy-to-program option that's attractive to the automation engineers.
The robot is capable of picking, placing, handling and palletizing small parts, and is part of the lightweight, cost-sensitive series as it saves on power through its efficient, lighter-weight design that reduces power consumption, while maintaining Toshiba Machine's market-leading speed and accuracy.
"Australia is a territory that has not previously had a proactive company like M.A.P Services marketing, supporting, and selling Toshiba Machine Industrial Robots," said Nigel Smith, CEO of TM Robotics.
"We're excited about getting Australia up and running as we continue to explore other market sectors that provide new opportunities for our robots."
"Increasing our robotic offerings has been a priority for us this year, so we're thrilled to finally be able to do that by partnering with TM Robotics to provide its full line of Toshiba Machine Industrial Robots," said Shane Gallagher, Director at M.A.P Services. "With such a robust, rigid line of robots, our customers will now have more ways to address their unique manufacturing needs than ever before."
National Manufacturing Week exhibition hours open from 10am – 6pm on Wednesday, May 11, 10am-8pm on Thursday, May 12 and from 10am – 4pm on Friday, May 13.
For more information, visit: www.nationalmanufacturingweek.com.au.