TORQUE WRENCHES TOUGHEN UP FOR MAINTENANCE SEASON
06-11-2017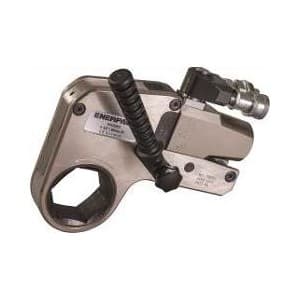 A new generation of controlled fastening solutions from Enerpac is ready for the maintenance season, including new versions of its compact and powerful S square drive and W series low-profile hexagon cassettes. The new X-Editions provide the tools with enhanced safety, efficiency and ergonomic features.
These improvements include a stronger, more durable and safer connection between tool body and manifold, along with a dual plane swivel manifold that features interlocking arms to increase robustness and safety.
Both the new square and hexagonal drive X-Edition wrenches come standard with tough upgraded safety handles featuring one-piece design with metal inlays for positive location, as well as an optional ergonomic straight handle designed for narrow or confined applications.
The hexagonal X Edition cassette wrenches also feature a top handle mount on cassettes to help operators attain easier handling for narrow access applications while keeping hands away from pinch points. Productivity is enhanced on the square drive X-Edition wrenches by wider reaction arm release levers, making positioning of the reaction arm simpler in gloved hands.
Productivity is also enhanced by engraved tool markings on the wrenches, including direction-of-turn for tightening or loosening with the square drive and low profile hexagon cassette series.
The fitment of the optional angle-of-turn indicator on the square drive tools allows for angle of turn or turn of nut method of tightening typically used in construction applications. A CE-ATEX declaration for use in explosive environments is provided with each tool.
Every Enerpac X-Edition torque wrench also now comes with a certificate of calibration, which provides end users with assurance that the tool meets the stated performance expectations.
Enerpac Australia
02 8717 7200
www.enerpac.com.au