Top of the tree: grab a bargain from Garilla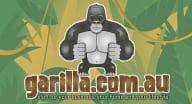 Over the past 35 years Warequip, a premier supplier of materials handling products, has built a reputation for innovation. 
Now Warequip has launched a new venture called Garilla.com.au, an online business offering "value for money" products.
At Garilla.com.au the consumer is the number priority.
All products on this e-commerce business site have been selected based on ease of shipment to the buyer. 
All products are easily boxed, not too heavy to ship and most importantly, offer value for money in a seamless online transaction.
Warequip chief Regan Carr, the founder of Garilla.com.au says sales and marketing techniques by Garilla.com.au will be "outside the square" using traditional and e-marketing techniques, including free gifts with selected purchases.
"This is one of the most exciting ventures Warequip has ever undertaken, Mr Carr says. "We will not limit ourselves to product offering or product ideas. As Garilla expands this business will grow into anything we find offers great value to our online consumers. We will strive to provide an enjoyable purchase experience with our customers so they come back time and time again."
Warequip
Ph: 03 8378 7700