Top shelf solution from Actisafe
31-08-2010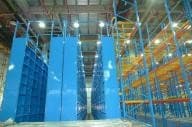 Industrial occupational health and safety specialist Actisafe has expanded further into the area of bulk storage with the release of new high-rise storage shelving.
The Australian made storage shelving is ideal for warehouses, components and parts processes, food manufacturers and other general industrial companies.
Actisafe, a Defence Preferred Supplier, has introduced the new range to cater for a growing demand by Australian industry for high-rise storage and shelving.
Made of heavy-duty steel panels and framework, Actisafe high-rise storage shelving can be powder coated to a specific colour required by the end user.
Designed with reinforced edges, this tough shelving can withstand a degree of impact from items forklifts, palette tracks and other industrial materials handling equipment.
But the main advantage of Actisafe high-rise storage shelving is the optimisation of warehouse space, resulting in signifcant cost savings.
Actisafe
Ph: 1300 852 397