Published 02-04-2019
| Article appears in April 2019 Issue
TOP RUNNING GANTRY CRANE FROM THE FARM SHED TO NMW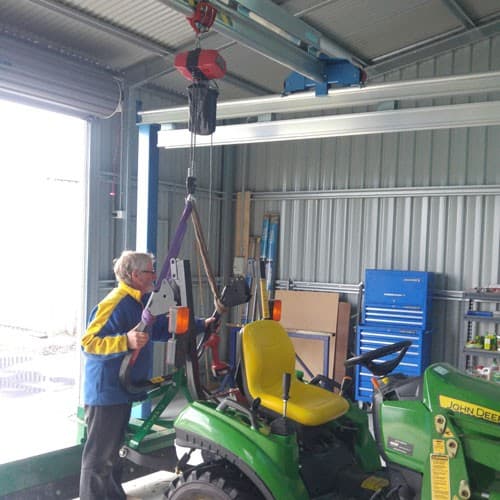 Visitors to the Bomac Engineering stand (K107) at National Manufacturing Week will be able to see the latest addition to the company's Altrac product range, a novel top-running gantry crane. And this crane comes with an interesting back story involving the company's founder.
Since founding Bomac Engineering 35 years ago, then inventing the core products Altrac and StrongBac in 2001, Barry McFarlane has stepped back from the day-to-day running of the business. He and his wife, Dawn, have moved out to the country for some peace and quiet.
Naturally, Barry wanted an Altrac crane in his shed to help move his tools and machinery. But when he came to load a tall toolbox onto his ute, he discovered a problem. With a standard gantry crane mounted in a standard farm shed, there was not enough lift to get the base of the toolbox into the tray of the ute.
The standard product just wasn't going to work.
So Barry took the problem back to the new generation of engineers running the R&D at Bomac. And between them they designed a top-running gantry crane that greatly increases the height-of-lift without compromising the other benefits of Altrac.
The crane is still lightweight and easy to use, and it can easily be installed in a standard farm shed.
Barry can now lift and move tools and machinery into his ute or lift implements into place on his tractor. The crane has given him the ability to continue living his active lifestyle and keep up with the demands of country life.
He could see that this new product could help his neighbours, farmers, small manufacturers and even weekend warriors in their man-caves to do the same. And so, Bomac Engineering has added the top-running gantry crane to its range and will be demonstrating it (alongside other Altrac cranes) at NMW 2019.
Bomac Engineering
03 9796 5300
www.bomac.com.au