Top honour for Kennametal
28-04-2014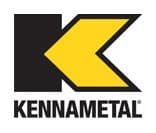 Kennametal, a global leader in engineering and machine tool solutions, has been named one of the World's Most Ethical Companies by The Ethisphere Institute, for the third year in a row.
"To be recognized for a third time as one of the world's most ethical companies is an outstanding honour and speaks volumes about the dedicated, talented team we have at Kennametal," said Chairman, President and CEO Carlos Cardoso. "Our employees consistently demonstrate the values and beliefs that set Kennametal apart as a leader in industry, enabling us to give our best to our customers, shareholders, communities and everyone we serve."
Ethisphere, an independent organisation dedicated to advancing and recognizing best practices in business ethics, honoured 145 companies from 36 industries worldwide. Kennametal is one of just seven industrial manufacturing companies chosen for this year's honour.
"The entire community of World's Most Ethical Companies believe that customers, employees, investors and regulators place a high premium on trust and that ethics and good governance are key in earning it," said Ethisphere's Chief Executive Officer, Timothy Erblich.