TOP FOOTWEAR PROTECTION FOR HOT METAL WORKERS
10-09-2014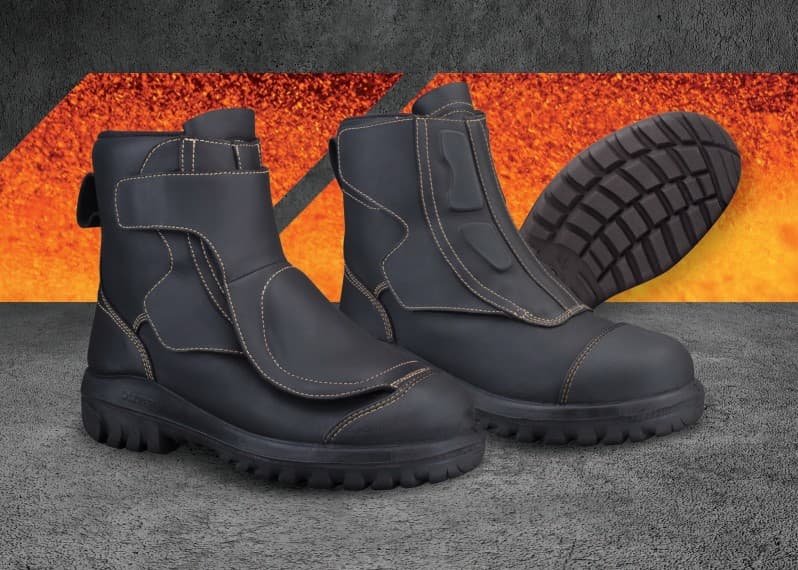 Safety footwear is a must for all those working in hot metal industries.
This includes smelting, roasting, welding or heat treatment of materials including foundries, metal smelters and aluminium casting operations.
All these heavy duty high heat working environments require special foot protection for operators.
Oliver Footwear has been a leader in this section of industry both in Australia and internationally for some years with a special range of smelter boots.
Oliver Footwear has recently released its new series of HS Series Smelter Boots in two versions – the Oliver HS Series 66-298 and HS Series 66-299.
Both smelter boots employ a new improved upper material designed to meet the molten metal pouring test requirements of the international EN ISO 20349 Standard for foundry and welding boots.
Oliver Footwear's managing director Phillip Hughes says both HS Series Smelter Boots have been developed in conjunction with the smelter industry including extensive onsite testing both in Australia and overseas.
"Our new Oliver HS Series Smelter Boots offer improved performance with the highest levels of safety, comfort and performance whilst maintaining the Oliver reputation for quality footwear and superior value," Mr Hughes said.
The HS Series 66-299 features an external rigid metatarsal guard whilst the HS 66-298 has a PORON XRD flexible lightweight metatarsal guard that protects the face of the foot.
Both new boots have a dual density nitrile rubber sole, three rows of heavy duty Kevlar stitching and heat resistant and flame retardant leather uppers.
There is also leather lining along the heel and foot area of the boots to provide additional heat protection while both boots have full breathable lining and a padded comfort collar.
The dual density nitrile rubber sole has a soft midsole to cushion the foot with a high density hard-wearing outsole.
The outsole being resistant to 300˚C of surface contact is also resistant to mineral oils and acids, and organic oils and fats.
The sole also has excellent slip resistance (SRC Rated) with abrasion and cut resistance as well as EH (Electrical Hazard) protection.
Key Oliver wearer features include the COMFORTcushion insole using a combination of cellular urethane and PORON to protect the heel and ball of the foot.
There is also the unique NANOlite footbed with its gently raised surface that massages the foot when walking to provide even more comfort.
The boots also have TECtuff toe protection while the overall safety is provided by a NATUREform protective steel toecap.
Oliver Footwear
Ph: 03 53 200 200