TOP ENVIRONMENTAL AWARD FOR CROWN EQUIPMENT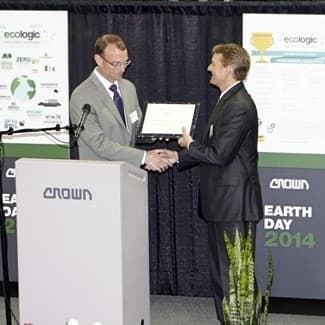 Crown Equipment Corporation, one of the world's largest material handling companies, recently earned a Most Valuable Pollution Prevention (MVP2) Award from the National Pollution Prevention Roundtable (NPPR).
The national award, in the MVP2′s Projects/Programs category, recognises Crown's ongoing sustainability program at its New Knoxville, Ohio, manufacturing facility.
"We're pleased to earn this recognition for our efforts in New Knoxville," said Tonja Rammel, Crown's environmental, health and safety manager.
"A deep commitment to environmental stewardship and sustainability has always been an inherent part of Crown's business.
This latest award brings national attention to the efforts and dedication of our New Knoxville employees to not only use a sustainable approach to business, but also to provide our customers with high-quality, sustainable products."
MVP2 judges evaluated program submissions for innovative approaches to environmental challenges and measurable results. Additional criteria included transferability and potential for use in different regions, commitment of employees and upper level management, and optimisation of available project resources.
Crown's New Knoxville facility has been a zero landfill facility since 2009, and the team seeks to continually reduce waste as part of their objectives each year.
To date, the environmental management system and zero waste initiatives have resulted in more than 600 tons of materials diverted from landfills. Additional efforts to prevent pollution include:
·       Energy efficiency improvements through compressed air use reduction, replacing old hydraulic injection molding machines with energy efficient injection mold machines and lighting upgrades
·       Implementation of a robust industrial recycling program
·       Switching from solvent-based resins to water-based resins
In April 2014, the Ohio EPA recognized Crown New Knoxville as the state's only gold-level manufacturing facility in its Ɛ3 program.
The Ɛ3 program targets companies, who reduce waste, improve efficiency and work to continuously improve as an environmental steward. The program has a three-level approach to provide recognition to Ohio businesses and organisations completing environmentally beneficial activities, and the gold level recognizes businesses that exceed regulatory compliance obligations and commit to long-term strategies to reduce waste, lower emissions and improve environmental performance.