Top cutting system on display
31-08-2010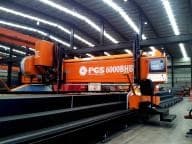 Engineers at Profile Cutting Systems (PCS) have invested several years developing the next generation combination drilling and cutting machine. 
After studying the marketplace, PCS realised there was no machine that could match the brute force and rigidity of its latest offering – the BHB.  
It is common belief that profile machines need to be light in order to accelerate quickly around a part profile. 
While this remains true, it is far more important for a drilling machine to be significantly heavy enough to withstand the substantial drilling forces produced when rapid drilling steel plate. 
If too light, the drilling forces – in particular micro-vibrations when using high speed/feed rates, will reverberate throughout the entire machine. 
This leaves the machines operator with no other choice than to reduce drilling speed and feed which results in slower drilling times and premature tool failure.
To achieve high acceleration rates on such a large machine, the BHB uses powerful AC motors and a state-of-the-art digital drive system. 
"There now exists a solution for our customers to cut and drill steel plate in an unprecedented amount of time," says PCS director John Buccella.
"By using uprated components throughout, the BHB will outlast the competition whilst providing unrivalled reliability."
The BHB also features an advanced safety system, which incorporates a controlled emergency stop that can bring the machine from 20m/min to standstill in about 50mm. 
PCS will display and demonstrate the new BHB on Stand 596 at Austech 2013. It's a MUST see.
Profile Cutting Systems
Ph: 03 9305 2555