Top award for new warehouse simulator
31-08-2010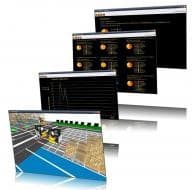 Yale's recently released warehouse simulation program has received a finalist award at the highly regarded Logistics and Material Handling Mercury Awards.  
The award was in the Materials Handling Solution category and was presented at the annual presentation night in Sydney in September. 
The Yale warehouse simulator is an extremely accurate software program designed to provide operators of medium to large warehouses with a sophisticated consultancy solution.  
It can show how a particular forklift fleet in a particular warehouse scenario will perform and provides a platform for trying out different approaches and strategies for a warehouse operation.  
The program uses the same simulation "engine" used by major European airports, leading rail infrastructure companies and other blue-chip organisations. 
The input interface breaks down the sections of the largest warehouse into atomic parts including marshalling, parking and staging areas, the exact type of racking, storage and the fleet to be used. 
Over 100 different models of Yale forklifts are used so the customer can see the impact of different forklift types and performance issues such as forklift speed. 
Racking and storage variables include; selective, double-deep, block-stack, drive-in and staging/marshalling, while goods flow scenarios include in/out-bound flow and frequency, order-picking and replenishment, and wave and batch picking.   
Customers can experiment with different layouts, racking configurations and timings and overlay with different forklift options like reach trucks.  
They can they see a visual representation of all scenarios in 2D and 3D as well as analyse data using graphical results and charts. It will also provide indicative cost information.
The simulation won't provide the ultimate answer, but the results can be used to make informed business decisions.  
The results obtained from running a simulation include:
Time spent handling loads
Idle/utilisation times
Utilisation of staging areas, racking and doors/docks
Hourly flow rates into and out of racking, staging areas and docks/doors
Visual indication of bottlenecks
Energy consumption and indication of battery charging and changing 
Yale is a Nacco Material Handling Group company and a leading provider of a full line of high-quality, high-performance Lift Trucks (forklifts), including electric, gas, LP-gas and diesel powered lift trucks; narrow aisle, very narrow aisle and motorized hand trucks. 
Nacco Materials Handling Group Pty Ltd
Ph: 02 9795 3800