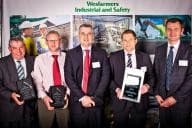 Dematic Real Time Logistics was presented with the Wesfarmers Industrial & Safety (WIS) Service Provider of the Year Award at the group's recent Supplier of the Year Awards in Sydney.
WIS is a leading provider of industrial and safety products and services in Australia and New Zealand. With key distribution streams including Blackwoods, Protector Alsafe, Bullivants, Total Fasteners and Coregas, servicing customers across the mining, oil and gas, energy, construction and infrastructure, manufacturing, health, transport & logistics and government sectors.
In presenting the award, WIS noted: "Dematic were integral to the wireless warehouse rollout providing outstanding service levels. Dematic assisted the business with a significant issue, and working with the WIS IT support team, were able to find a resolution. The Dematic team are professional and go above and beyond the call."
Dematic's real time logistics solution for WIS includes upgrading more than 100 warehouses and regional distribution centres from paper-based operations to fully integrated paperless systems including barcoded RF solutions, wireless LANs, RF terminals and associated printing and labelling systems. 
The other two finalists in the Outstanding Service Provider category were Crown Commercial Training and Personnel Links.
In accepting the award Mr Nathan Taylor, General Manager, Dematic Real Time Logistics, said: "The significance of this award to Dematic is that we were not only compared against other materials handling and logistics IT suppliers, we were compared to all of WIS' providers, from transport to stationery to labour hire. "That makes receiving the award all that much more gratifying."
Dematic Pty Limited
Ph: 02 9486 5555