TOOL SAFETY: PREVENTION IS BETTER THAN CURE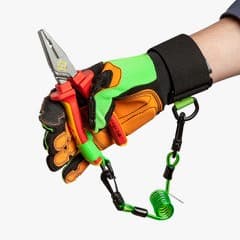 Objects falling from scaffolds or platforms are a serious cause of accidents, with Safe Work Australia recording 125 fatalities between 2010 and 2014. Preventive controls such as tool tethering are better than mitigating controls like toe boards, handrails, netting and hard hats.
The Australian Matting Company is the exclusive Australian distributor for the comprehensive range of Never Let Go products, covering tethering systems and gear storage units.
According to product specialist Will Small, "Dropping tools and equipment has a huge negative impact on productivity. Often tools fall long distances, requiring considerable time to retrieve. If they fall into water, machinery or other 'non-retrievable' locations, it can delay or even prevent the task being completed on schedule. Note that a 2kg hammer dropped at a 5m height will have the impact force of over one tonne!
"Dropping and losing tools costs money in terms of damage and replacement. There is also the possibility of lengthy legal implications and expensive bills to pay. And, if members of the public are involved, the problem expands and can lead to other intangible costs, like brand and reputational damage.
"And, most importantly, there is the potential loss of life. Even with recoverable injuries, it is traumatic for the persons and families involved. After all, this can lead to the loss of income and ongoing medical expenses. Remember, if you are working in public areas, it is not just your workforce at risk, but anyone passing nearby."
Tethering systems use a tether, lanyard and anchor. The tether attaches to a tool, while the lanyard connects the tether to the anchor, which can be an immovable object, belt, harness or wrist wrap.
Never Let Go offers a wide range of lanyards with various load ratings based on tool weight, as well as different lengths, materials and designs to make access to the job as easy as possible and the tool conveniently retrievable if it is dropped.
The company also provides instructional literature and videos to assist users in evaluating risks involved with falling objects and choosing the best equipment for each particular application.
Australian Matting Company
1800 888 598
amco.net.au